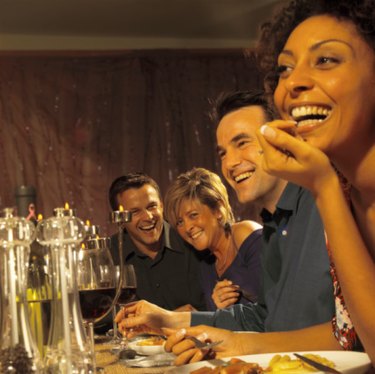 If you have been called upon to contribute an after-dinner speech, there are a variety of topics from which to choose. Interjecting humor, no matter what the topic, can keep the mood lighthearted. These speeches may be a bit shorter, but they should not be just a string of one-liners thrown together to illicit laughter. Choose one topic or several, and tie it together with a message or theme that pulls the speech together and makes it accessible to all listeners.
The Dinner's Theme
Use whatever reason you've come together for the dinner as fodder for your after-dinner speech. If it is a company dinner, you can use anecdotes about the office and the co-workers. If it is an awards dinner you can talk about the subjects that are up for awards, in sort of an Academy Awards monologue type of way. If it's a family reunion, discuss some shared past events that everyone can recall fondly and with humor.
The Participants
You may also decide to tell some humorous jokes about your co-workers, your family or perhaps any one of a group of friends that have come together to celebrate a special occasion. If you use people as part of the conversation, stay respectful. Don't turn the dinner into a roast unless the occasion calls for it and the person in question is receptive to it. Steer away from anything politically incorrect; keep the mood lighthearted, not malicious.
The Food
An after-dinner speech may also include material on the food that was served. You can find out ahead of time what types of food are being served to include funny anecdotes and jokes, but make sure that you keep the conversation appropriate for the after-dinner crowd with nothing gross or upsetting. Keep a pen and notepad handy so you can include any insights and observations you make while the dinner is being served.
Current Events
The common rule of thumb is never discuss politics or religion, but you can incorporate domestic and international current events into your speech, especially if the purpose of the speech is political in nature. This can be a clever way to integrate your theme or the reason for the dinner by illustrating the use of pop culture that the audience universally shares. Keep it light and general instead of divisive, and gear the topics toward your particular audience.