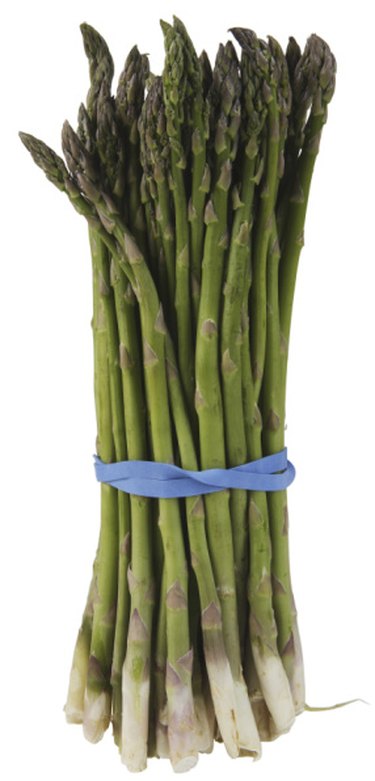 Chicken piccata, a classic Italian dish often made with white wine, lemon juice and capers, has a light but tart taste. The capers also add a slightly salty flavor. Keep the side dishes simple to not take away from the flavors of the main dish. Roasted or sauteed vegetables work well, but avoid any overly salty or sour side dishes that will compete with the chicken piccata.
Roasted Vegetable Medley
Add color and flavor to the dish with a mix of roasted vegetables. Preheat oven to 425 degrees Fahrenheit. Slice one onion, one eggplant, a seeded red and orange bell pepper and one large zucchini in even-sized wedges. Spread in a roasting pan along with three to five peeled garlic cloves and top with 2 tbsp. olive oil. Toss the vegetables so they are fully coated. Season with salt and pepper then bake in the oven until the vegetables are tender, approximately 30 to 40 minutes. While the vegetables bake, mix balsamic vinegar with 4 tbsp. olive oil and salt and pepper to taste. Remove the vegetables from the oven, place on the dish and top with the oil and vinegar mixture, 1 tbsp. shredded fresh basil and shaved Parmesan to taste.
Green Beans with Blackened Sage and Hazelnut
Add crisp green beans seasoned with rich sage and hazelnut to the chicken piccata dish. Heat a large skillet over medium-high heat. Add 1 tbsp. unsalted butter, 1 tbsp. olive oil and ½ cup chopped fresh sage to the skillet and cook until the sage is brown, approximately one to two minutes. Add three cloves of chopped garlic and cook for about two minutes. Add 2 lbs. trimmed green beans and ½ tsp. salt. Carefully mix in 1 cup of water and steam the beans until most of the water is evaporated, about three to four minutes. Season with salt and pepper and top with ¼ cup chopped hazelnuts.
Roasted Asparagus
Pair chicken piccata with a crunchy and slightly sweet side dish of roasted asparagus. Preheat oven to 400 degrees Fahrenheit. Trim and peel 24 asparagus spears, approximately 2 lbs. Place spears in a single layer on a large baking sheet. Sprinkle with extra-virgin olive oil and turn to coat. Add salt and pepper to taste. Roast for approximately 18 to 20 minutes, turning occasionally, until golden brown. Transfer to the plate and drizzle with balsamic vinegar and shaved Parmesan cheese.
Sauteed Summer Vegetables
Sauteing a mix of summer vegetables is a quick and easy way to add color and taste without overwhelming the flavors of the chicken piccata. Cut a red bell pepper cut into ¼-inch strips, along with ¾ cup thinly-sliced onion, a zucchini and yellow squash matchstick-cut, 1 cup halved cherry tomatoes, two cloves minced garlic, 1/4 cup grated Parmesan cheese and ¼ cup thinly-sliced fresh basil. Heat a large non-stick skillet over medium-high heat. Coat with cooking spray or sprinkle with olive oil. Saute bell pepper and onion for eight minutes until tender and slightly brown. Put in a bowl and keep warm. Add the zucchini and yellow squash to the medium-high heat pan. Saute for four minutes until tender. Add tomatoes and garlic and saute for another two minutes. Combine with the onion mixture and top with Parmesan cheese and basil.