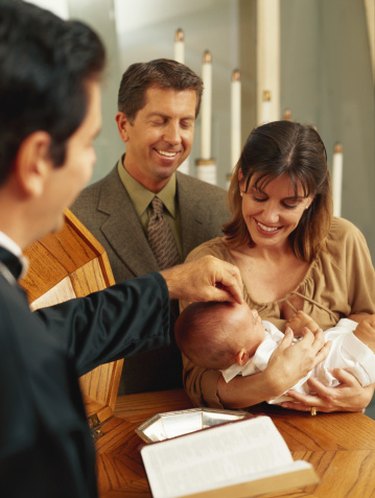 A baptism is an important time in the life of the person being baptized, the family and the church. A pastor who performs the baptism ceremony becomes an important spiritual figure in the child's, or in some cases, adult's life. Help show the pastor that he's appreciated by giving him a gift on the occasion of a baptism.
Religious Gift
A religious gift is an appropriate way to say "thank you" to a pastor for her part in a loved-one's baptism. A Bible is always a nice gift. Even though a pastor is likely to have several Bibles, she may not have a particular translation. She will not only appreciate the gesture, but may appreciate having an extra Bible to keep in her car. Religious-themed books such as those that may help a pastor prepare for a sermon or Bible study will be a nice addition to her library. Consider giving the pastor the gift of music or a religious-based movie.
Personalized Gift
Personalized gifts are appropriate for many occasions, including a baptism. Show the pastor you appreciate him with a personalized gift such as a pen. Have his initials engraved on a nice silver-toned pen that he can use when preparing notes for Sunday service. Other personalized gifts include hankies with his initials embroidered on them and a metal bookmark that has the pastor's name engraved on it.
Homemade Gift
Give the pastor a homemade gift for a baptism. One type of homemade gift is a tin of the pastor's favorite cookies. The pastor (and her family) will appreciate receiving a tin of goodies that she can munch on while relaxing or studying. Arts and crafts items can also make appropriate gifts. Make a hand-drawn picture of the church for the pastor to hang up in her study, or create a needlepoint with a favorite scripture on it and have it framed. Homemade gifts are special because they indicate that you made extra effort to provide a meaningful gift.
Other Gift Ideas
Give the pastor a gift card to a nice restaurant to thank him for his part in a baptism ceremony. Other gift ideas include a gift basket full of some of his favorite things, such as his favorite coffee, candy or favorite type of nuts. If you just cannot find the right gift idea, consider giving the pastor a donation to the church or a gift of money to him.