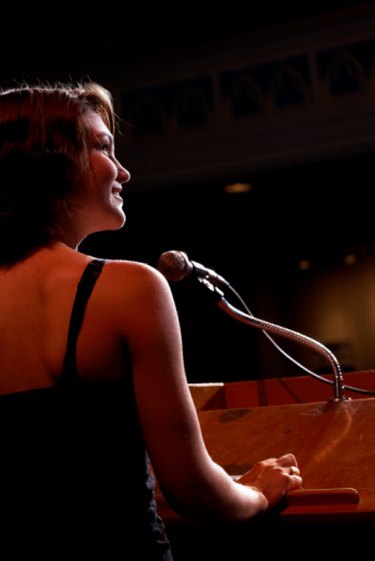 Class reunions are not only an opportunity to re-establish relationships with past classmates, they are an opportunity to see what jobs and life choices your peers have made over the years. It is because of this that many look forward to their class reunions to celebrate the accomplishments of one another. If planning your school's class reunion, give out awards that speak to the occasion of seeing those you may not have seen in years.
Physical Appearance Awards
No doubt that many will attend their class reunion to see how everyone has changed over the years. While some are anxious to see how the most popular jock looks today, others are anxious to see how the school nerd turned out. As such, give awards that acknowledge those who have changed the most in physical appearance. An award for "Grayest Hair" or "Most Preserved Looks" can be given in jest. However, avoid awards that denigrate people who have gained weight or have lost their looks since high school.
Career-Related Awards
Finding out what your former classmates are up to now is a part of the fun of attending a class reunion. Some of your classmates could have become famous inventors, while others may have stayed to teach in the local community. Recognize the wide breadth of jobs your classmates have taken with awards like, "Most Enviable Job," "Most Jobs Since High School," or "Most Dangerous Job." Try to recognize a diverse spectrum of jobs, not just high-powered positions, to include all of your classmates.
Family Related Awards
Your former classmates' family changes will undoubtedly be a large topic of discussion at a reunion. Some people could have had twins or triplets, while others could have had five children since high school. Alternately, some of your classmates may have gotten married multiple times since high school. To recognize these changes in your classmates' lives, give out awards like, "Most Unique Family," "Biggest Family," or "The Elizabeth Taylor Award" for those who have had multiple husbands.
Life Choices Awards
Many of your former classmates will have made interesting life choices since graduating high school. Some would have pursued multiple degrees--an accomplishment you can recognize with a "Most Degrees" award, for example. Or others could have lived in other parts of the world for a while, while some may have moved across the country permanently. Acknowledge such life changes with awards like "Lives Farthest Away," "Most World-Traveled," or "Most Interesting Stories to Tell."