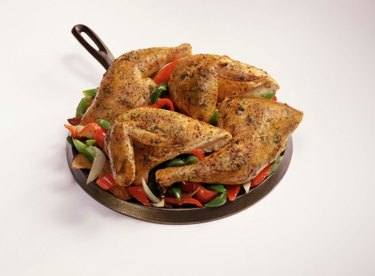 The chicken wing is one of the least-expensive, most-versatile chicken parts. Chicken wings have a relatively strong flavor, so they stand up well to strong seasonings. Fried chicken wings pair well with beer, making them a favorite bar food throughout North America. You can find chicken wings worldwide, roasting on an outdoor spit or simmering in a rich sauce.
About Chicken Wings
Chicken wings consist of the bones and meat around a chicken's two wings. Chicken wings, like chicken breasts and thighs, are a white meat. Because they contain more fat and ligaments than other white chicken parts, chicken wings have stronger flavor and chewier texture. Purchase bone-in, skin-on chicken wings in packets at the grocery store.
Chicken Wings Preparation
Chicken wings are small, with just a few bites of meat per wing. You will need five or six wings per person for an appetizer and 10 to 12 wings per person for a meal. Trim the fat well before cooking. If you like, leave a thin film of fat for crisping if you plan to fry, roast or grill your wings. If you plan to simmer or braise in a sauce, you need not retain the fat.
Buffalo Wings
Buffalo wings, named after the town in New York where they were created, are a specific style of fried chicken wings. The cook tosses them in flour before cooking. After frying, the cook removes them from the frying oil. Then the wings get tossed in a spicy, red hot-pepper sauce mixed with butter. Sometimes the sauce contains cream cheese or sour cream. Restaurants serve buffalo wings with a side of ranch or blue cheese dressing for dipping and a handful of celery sticks to clear your palate.
Boneless Buffalo Wings
If you prefer boneless breast meat, some restaurants serve chunks of boneless chicken breast fried and treated like Buffalo wings. Though they are not wings, menus often refer to them as boneless wings. When fried, boneless chicken breasts have a slightly lower fat content than chicken wings. Because the fat difference is not enough to provide substantial health benefits, people who choose boneless Buffalo wings often do so because they prefer the flavor to that of bone-in wings.