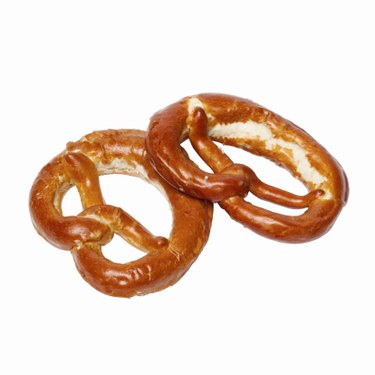 The pretzel is a snack-time favorite that dates back as far as 610 A.D. Later, pretzels were given to travelers as a welcome to a village. They eventually became synonymous with hospitality, good luck and prosperity. These salty treats are enjoyable alone but dipping pretzels in sauces can be a delectable treat.
Mustard
One of the most popular toppings or dips for pretzels is mustard. Many vendors sell pretzels and distribute packets of American or yellow mustard with each pretzel. Other mustard choices are dijon, brown or deli-style and honey sweetened. Each type of mustard complements the pretzels in a different way.
Icing
A sweet pretzel topping option is icing. The same type of icing used on sweet buns and cinnamon rolls is perfect on doughy pretzels. Most of the pretzels eaten with icing are served without salt. The bread of the pretzels is often glazed with icing then sprinkled with cinnamon and sugar.
Peanut Butter
The salt and the dough of a pretzel match well with peanut butter. Dipping a pretzel in peanut butter is the same as spreading it on a piece of toast. The salt on the pretzel gives that extra kick of flavor and provides a perfect salty and sweet balance. Peanut butter has become such a popular match with pretzels that many commercial pretzel makers are now selling peanut butter filled pretzel bites.
Cheese
Dipping pretzels in melted cheese is another delicious way to enjoy these twisted treats. Often the pretzels are served with a nacho cheese type of spread. Slices of cheese can also be melted atop a pretzel in the oven under a broiler. American or cheddar cheese is a great cheese choice.