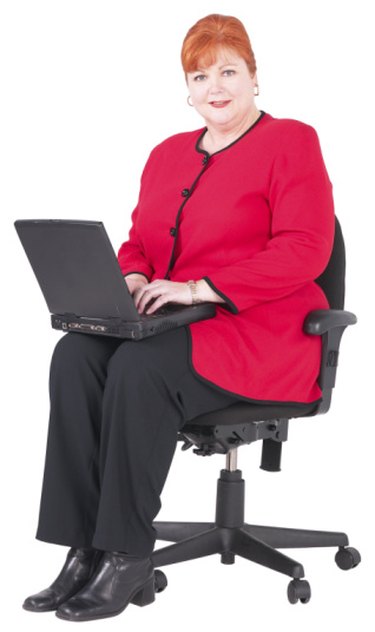 In many offices, a secretary keeps things running smoothly. She acts as a gatekeeper, mail person and do-it-all woman, answering phones, scheduling meetings and making sure letters go out on time. When it comes time for a secretary to retire, picking the right gift can be tough, but with some advance thought, the perfect gift can be found.
Scrapbooks and Memories
If the retiring secretary has been with the company for several years, a scrapbook with notes from current and former co-workers could be a great idea. Have everyone write notes or favorite memories of the secretary on sheets of decorative paper and glue them into a scrapbook. Try to include a photo of the retiring secretary and the person sharing the memory on the page with the note. You can also include photos through the years of co-workers, the secretary and the office.
Gift baskets
Now that she's retiring, your secretary will have more time to focus on herself, so you can help indulge that with a retirement gift basket. Include gift cards for restaurants she enjoys, a movie theater near her house or a local spa. You can also add specialty coffees or teas, books she might enjoy reading, gardening tools if she likes to garden or other specialty items that reflect her hobbies. Include a framed photo of her co-workers as well, so she'll be able to remember her work friends while embarking on her new life.
Travel Ideas
For lots of retirees, traveling is at the top of the to-do list. If your secretary has been talking about all the exciting places she plans to visit, consider giving her a travel package as a retirement gift. Purchase travel books for areas she wants to go, travel accessories like a travel pillow, a passport holder, engraved luggage tags and put them all in a new suitcase or duffel bag. If you desire, you could also add a travelers check or credit card gift card with spending money for her first vacation.
Personalized Gifts
You could also consider getting your secretary something personalized for her retirement. A hand-drawn caricature of her working could be framed and you could have everyone in the office sign the matte around the picture. A personalized clock is also another option and might be especially good for a secretary who kept everything running on time. You can also find personalized paper weights, calendars or other desk items for your secretary to place on her desk or mantel at home.
Jewelry Items
Jewelry can be a great option as a retirement gift for your secretary. Depending on your budget and your secretary's personality, you can go with something classic like a gold necklace or bracelet or something a bit more personal like a charm bracelet with different charms to commemorate her job, her co-workers and her time with the company. Another option would be a nice watch, which could be engraved on the back of the face with a special message.