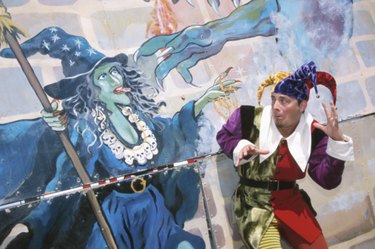 Hosting a Renaissance fair booth is the ultimate dream of fantasy fans and history buffs alike. A Renaissance fair can transport participants to the days of Renaissance Europe, complete with elaborate costumes. Considering whether you are a cook, an artisan, a fortune teller or a businessperson may help you decide which type of booth works best for you.
Costumes
Providing costumes at the Renaissance fair is a brilliant idea because it is hard to resist getting into the spirit at a fair. If you are on a budget or small-scale, you can shop at thrift stores and flea markets to buy all the right type of garments. For more historically accurate pieces, hire a seamstress or contact a seller who creates historically accurate clothing. You can choose to sell the items for profit or rent them out for the day. Factor the time and expenses of laundering these clothes into your prices. If possible, provide ornate mirrors that have a dated feeling to them, so customers can try the garments on.
Consumables
Hearty food is essential at the Renaissance fair, and proper drinks are important for having a merry time. If you are a chef, you can choose from historical dishes such as quail, roasted leg of mutton and fine chocolates. For drinks, you could serve imported wines and beers. Make sure to check with the fair's policies to find out what kind of licenses may be required to serve food and drinks. Be sure to check for modern ID even though driver's licenses didn't exist in the Renaissance period. Try to provide a shaded seating area near your booth, and consider serving your drinks in goblets or wooden mugs.
Crafts
Arts and crafts provide a wide array of ideas for the fair. If you are an artist, artisan or jeweler, this is ideal for you. Jewelry of all kinds can be sold, including Celtic necklaces, beaded Gypsy bracelets, silver circlets and garlands made of flowers. A booth could also specialize in housewares, such as decorative pottery, paintings of mythical figures, shields, swords and magic wands. These booths may require a few tables with fanciful tablecloths and possibly other items on which to display the merchandise.
Fortune Telling
No Renaissance fair would be complete without a fortune telling booth. Different types of fortune telling that would fit this time period are tarot readings, astrology and palm reading. The booth should have a front area to lure customers in, as well as a back area closed off with beaded curtains and lush drapery. Props such as crystal balls and mystical symbols should decorate the booth, and the fortune teller should dress the part.