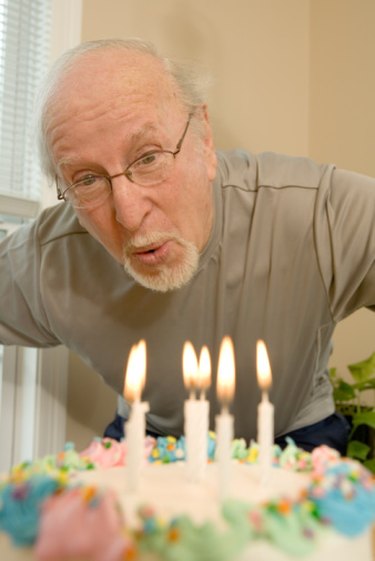 Turning 80 is a big milestone that not everyone reaches. When you reach this major birthday, enjoy your special day with a celebration that fits your personality and lifestyle. If you like grand parties, throw an extravagant one, but stick to a smaller event if you prefer private gatherings. Then look at the coming year and find ways to make it the banner year you deserve.
Celebrate the Day
Plan a bash that matches the occasion, but suits your personal preferences. An 80th birthday is a major celebration and should be recognized as such, but if you are the quiet type, don't feel pressured to make a huge party. Invite just close friends and family or break open the address book and contact names of friends and relatives long forgotten.
Order a cake that showcases your age with a big number 8 and 0 across the top. Play music from the era you were born and plan dancing to keep your guests entertained and hire a caterer to do the hard work of cooking and serving, as well as cleaning up once you're done. Then sit back and enjoy your special day.
Fulfill a Dream
Now is the time to take advantage of a dream that you have long held. Whether it is touring a foreign country or taking a boat out on the local river, do it now while you still can, if your health permits. Make arrangements as soon as possible so you don't back out, then get out there and do it! As long as your doctor says it's OK, don't let anyone talk you out of fulfilling your dreams, even if they mean well. You enjoy the satisfaction you feel of finally seeing the Eiffel Tower or catching a trout, especially when you have imagined that feeling for decades.
Patch Up Relationships
Eighty is too old to be holding onto grudges from the past. At this point, you are wise enough to know that fighting is rarely, if ever, worth it and you are old enough to move on. Frederic Luskin, senior consultant of health promotion at Stanford University, told Ladies' Home Journal that bearing a grudge can have bad effects on your health. The mind-body connection is so strong that a negative feeling in your heart will cause a negative effect on your health, something that you want to watch out for when you are in your 80s. Forgiving and forgetting can lower the risk for heart disease and lead to greater satisfaction in life, so call your former friend or relative and get your relationship back on track.
Enjoy Your Family
If you have grandchildren or great-grandchildren, now is the time to enjoy them. Create precious memories for your grandchildren by taking them on trips, playing at the park or baking cookies in your house. Feel free to spoil, as long as your kids don't object, because your job as the disciplinarian is long over. Bake cakes for their birthdays and attend graduation ceremonies and school plays.
Celebrate their small victories, such as a job interview that went well or a victorious election for class president. Everyone loves when their accomplishments are recognized, so be the one to fulfill this role for your family members.