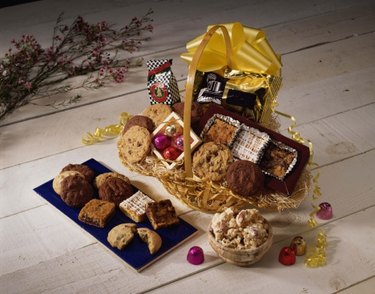 The only thing better than one perfect gift is a basket full of them. A gift basket allows you to create a completely personalized gift appropriate for any recipient on any occasion. Once you have put the perfect basket together, wrap it all in plastic to keep the elements in place. A perfectly assembled basket shows the recipient that you put time and effort into the gift.
Relaxation Basket
With the chaotic lives people lead today, almost anyone will appreciate a gift that helps her relax. Pack a basket with slippers, scented candles, bubble bath and a box of hot tea. Add guilty pleasure reading materials such as romance novels or paperback thrillers. If your budget allows and you know the recipient's size, add a fluffy bathrobe or cozy pajamas. This basket is appropriate for birthdays, Mother's Day or "just because," but also works as a sympathy gift since the relaxing items will help comfort the grieving person.
Food and Drink Basket
Unlike those generic meat-and-cheese gift baskets you see at the mall, making your own basket allows you to create a personalized gift for any friend. Use a large ice bucket to make a basket for a friend who enjoys upscale dining. Place a bottle of wine, gourmet chocolates and a block of artisan cheese inside. For a more casual friend, fill a cooler with a six-pack of beer, barbecue sauce and a bag of his favorite game-day snack.
The Great Outdoors Basket
No matter where the recipient lives, she will enjoy some outdoor activity with the help of your gift basket. For a friend who lives in a sunny climate, fill a flower pot with sunblock, a sun hat, lemonade mix and a book about games to play outdoors. If the recipient lives in an area that is often cool or snowy, line a wicker basket with flannel and fill it with warm mittens, hot chocolate mix and an inflatable plastic sled or snow tube.
For the Family Basket
If the recipient has a family and children, give him the gift of more time spent with them. A family basket is also ideal if you are close to the whole family and want to give every member a gift. Buy a board game or puzzle for the family to complete together, along with a DVD of a family-friendly movie and a box of microwave popcorn. If your budget allows, buy a movie ticket for each family member or museum passes for the whole family. Package all the items in a plastic bucket.