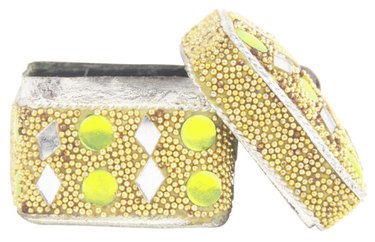 Rhinestones are sparkling gems made out of glass or plastic. They can be used to embellish clothes, shoes and accessories, to accent items such as cellphones and to make jewelry. Rhinestones can even be glued to the skin. Some rhinestones (such as hotfix rhinestones) are self-adhesive; others require glues to hold them in place. The kind of glue will depend on the the type of rhinestone and the surface it will be attached to.
Gluing Rhinestones to Fabric
Rhinestones can be attached to fabric using metal mounts, also called settings. These can snag clothes and irritate skin, however. For these and other reasons it's often preferable to secure rhinestones with fabric adhesive. Certain fabric paints can also be used; the paint is applied thickly and the rhinestones pressed into the design while wet. Avoid hot glue or cyanoacrylate adhesives, as these can damage fabrics and discolor rhinestones.
Footwear
Choosing the right adhesive for footwear means paying attention to the material the shoes are made from, where the stones will be applied and what kind of stones are being used. Beacon Fabri-Tac Glue can be used for shoes made from soft materials like canvas as well as leather. For shoes made from hard leather, a one-part epoxy glue or a polyurethane glue can be used.
Accessories
Everything from sunglasses to cellphones and other personal electronic items can be embellished with rhinestones. For flat surfaces, flat-backed rhinestones can easily be glued in place with a one-part epoxy or a manufacturer-recommended two-part epoxy. For a curved surface, it may be best to use chatons (stones with a pointed back) and drill out a small cavity before gluing the stone into place. Don't drill electronics or fragile items that can easily be damaged.
Glass
Rhinestones can be glued to mirrors or other glass surfaces. E6000 one-part epoxy can be used for plastic rhinestones or rhinestones secured in metal mounts but will not stick glass to glass. For a glass-to-glass join, aquarium glue is one possibility; silicone-based craft glues are another. For best results, a glue that dries transparent should be used.
Metal
Rhinestones are perfect for creating jewelry. They can be secured onto metal pendant backs and ring blanks to create unique pieces almost instantly. Existing metal jewelry can be given new life with one or two crystal glass stones. Rhinestones can easily be glued to metal using one-part or two-part epoxy. For security, as well as extra sparkle, it may be a good idea to drill out a small cavity and glue in chatons or rivolis.
Rhinestone "Tattoos"
Rhinestones can be glued onto the skin for a glamorous look. It is vitally important only to use adhesives made specifically for use on skin. Eyelash glue can be used for one or two small gems. For larger areas or bigger stones, theatrical spirit gum can be used. A patch test should always be performed and glue should never be applied near the eyes or any other especially sensitive areas.