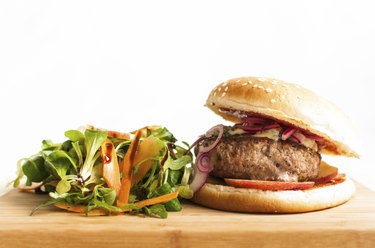 Hamburgers can be served in any season, cooked on a skillet indoors or on a grill in the backyard. Their accompaniments are equally versatile. The key is to seek out dishes that aren't too fussy. Hamburgers are casual fare, eaten with your hands. Their side dishes should be hearty without being heavy.
Go Green
The crunch of a sturdy green salad with vegetables balances the meaty richness of the burger, and a vinegar-based dressing enlivens the flavors of both dishes. Keep the salad simple with just three or four ingredients, or toss in the whole garden along with further additions. Nuts and seeds, croutons, and shredded or crumbled cheese are just a few favorite toppings.
Shred and Toss
Coleslaw is a traditional summer cookout salad found next to burgers on the plate. Make your slaw with shredded cabbage and mayonnaise or a boiled dressing for a classic take. Vary it by using a vinegar dressing or adding extra ingredients, such as shredded carrot or apple, sunflower or sesame seeds, or toasted nuts. In fact, your slaw doesn't have to consist of cabbage at all -- create a slaw with broccoli stems, kohlrabi, fennel or even beets.
More Fresh Choices
Stray off the beaten path and experiment with other vegetable salads. An Israeli salad made of chunks of cucumber and tomato dressed with tahini and lemon juice provides an acidic contrast to the rich hamburger meat. Or mix up a Moroccan carrot salad with sliced carrots, lemon juice and cumin. A corn salad with diced red onion and marjoram, dressed with red wine vinegar is a refreshing option. Or surprise the family with a massaged kale salad featuring diced red peppers and pine nuts.
Classic Potato
Serve potato salad with hamburgers, but incorporate a mustardy dressing. The tangy heat of the mustard cuts the fattiness of the burger. Stick to classic potato salad additions, such as celery, scallions and chopped hard-boiled egg, or experiment with less traditional ingredients, such as bacon, radishes, caraway, horseradish, green beans or olives.
Pasta Possibilities
Another starchy, soothing side salad that offsets hamburger's dense meatiness well, pasta salad is open to endless variations. Choose from the traditional mayonnaise-drenched macaroni salad or a salad of roasted or grilled vegetables with a vinaigrette. Choose short, chunky pasta that's easy to eat. Toss it with chopped tomatoes and a pesto dressing, or make a salad of pasta, artichoke hearts, olives and strips of sun-dried tomatoes.
Grain-Based Salads
Cooked grains are the foundation for a number of salads that complement hamburgers. Make tabbouleh, a Middle Eastern salad of bulgur wheat, parsley and lemon juice. Israeli couscous -- which is technically a pasta but whose large pearls look and taste like grains -- plus chopped tomatoes and cucumbers and a vinaigrette makes for a tasty salad as well. Or serve farro, a relative of wheat, with arugula, fava beans or edamame and lemon juice folded in.