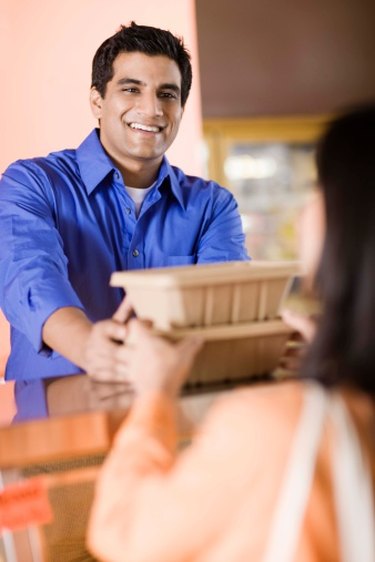 A deli, or delicatessen, is a food shop that sells a wide variety of ready-to-consume foods. Often part of a larger business, such as a butcher shop or grocery store, delis sell both cold and hot foods, such as sandwiches and soup. A favorite among many individuals seeking a quick, prepared dinner or lunch, there are many hot foods sold at delis.
Hot Sandwiches
Serve a variety of hot sandwiches in addition to cold sandwiches of sliced meat, cheese and vegetables. Customers will love chicken and veal Parmesan sandwiches, which are tasty and require the basic ingredients of cheese, meat and tomato sauce. Serve these with hot toppings, such as cooked onions, peppers and mushrooms. Roast beef is also delicious served hot, with melted cheese and a variety of buns, such as cheese buns, to choose from. Grilled cheese is a staple for young customers.
Meat
Many customers go to delis in search of meat-based meals. Provide a wide variety of condiments for basic hamburgers, sausages and hot dogs, such as ketchup, yellow, Dijon and spicy mustard, mayonnaise, relish and chopped onions. Whole roast chickens can be taken home easily by customers to feed entire families, while chicken wings and drumsticks are suitable for individuals. Ethnic foods, such as Indian chicken tikka masala and Greek souvlaki, add variety.
Vegetarian Options
Stock your hot deli counter with several meat-free meal options for vegetarians. Add a hot, roasted vegetable sandwich to the menu and offer eggplant Parmesan in place of chicken and veal. Tofu and other meat-replacement products can be cooked in a wide variety of ways, such as baked and fried, and served alongside vegetarian side dishes. Pastries filled with cheeses, spinach and other vegetables make great vegetarian snacks.
Side Dishes
Offer hot side dishes to go along with the hot foods. Implement a soup of the day that you can switch up throughout the week; offer flavors such as chicken noodle, minestrone and garden vegetable. Fries and potato wedges are enjoyed by adults and children alike, while rice and basic pastas, such as spaghetti, go well alongside meat dishes and hot sandwiches. Offer pita or naan bread, which can be warmed up in the oven, with Indian and Greek dishes.