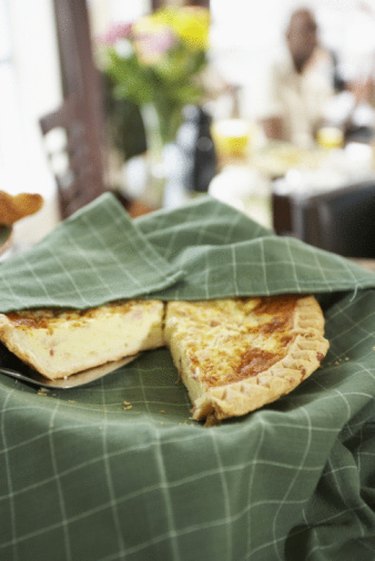 The quiche is an oven-baked savory pie containing eggs, cheese, milk or cream in a prebaked crust. The quiche originated in the Lorraine region of France and continues to be a popular dish, especially among vegetarians. Just about anything can be baked into a quiche and the range of flavor combinations is essentially endless. Depending on the content of the quiche, complementary sauces will differ.
Hollandaise Sauce
Hollandaise is one of haute cuisine's mother sauces -- it is one of five foundational sauces within the French repertoire. Hollandaise is an emulsion of egg yolks, butter and lemon juice. The sauce is buttery and creamy, but the presence of lemon adds an acidic element, which cuts the rich flavor. Hollandaise is commonly used with eggs (for example, in eggs Benedict) and for this reason, it pairs very well with quiche. The hint of lemon, moreover, keeps the dish from being overly rich.
Béarnaise Sauce
Béarnaise is similar to Hollandaise, but it is made with clarified butter (butter with the milk solids removed) and seasoned with herbs. Béarnaise sauce is less rich than Hollandaise, but still adds that layer of decadence to a quiche. You can season it with herbs that complement your particular quiche (usually tarragon and chervil are used).
Sauce Tomat
Tomato sauce, or sauce tomat, is another of the French mother sauces. The base of this recipe is fresh or canned tomatoes cooked down into a liquid or pureed. Compared with the previous two sauces, which should be used with lighter quiches, sauce tomat will have the effect of balancing rich components within your quiche. The acidity of the tomatoes will cut the richness of the quiche and pairs well with hearty meats, such as sausage or beef.
Gorgonzola Sauce
Gorgonzola sauce can be made by simmering white wine and chunks of gorgonzola until the cheese is thoroughly melted and the sauce takes on a thick, creamy texture. Gorgonzola is a pungent cheese and adds a strong kick to your quiche giving it an omelet-like flavor. If the sauce is too overwhelming, balance it with cream or a milder cheese and season with tarragon and parsley.