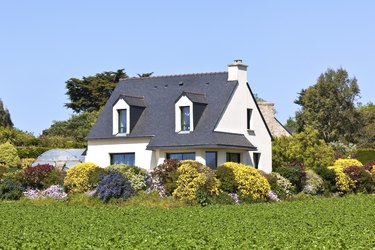 If you're building your home from the ground up or are doing some major remodeling to the outside of your house, you'll want to coordinate the roof color with the hues of brick, siding or stone for the home's exterior. A gray will complement a number of warm and cool color combinations and can add particular balance to several vivid shades.
Blue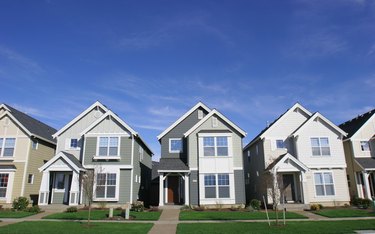 Pastel or sky blue makes an attractive house color when the roof is a dark or medium gray. The blue and gray combination is especially attractive on a cottage-style home since parts of the roof are angular and will directly contrast with the front and side of the home, easily displaying the two colors. A modest shade of blue with gray tinges looks good with a gray roof as well; it gives the home a uniform look while showcasing a subtle hue that makes the house appear a little larger.
Yellow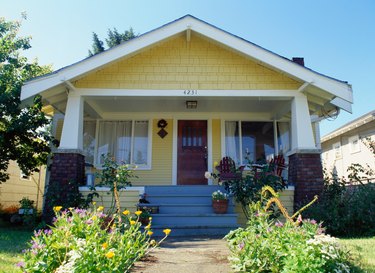 Bright shades of yellow are ideal if the house has a dark or charcoal gray roof to create a pairing of bright and neutral color. Pastel or light lemon yellow siding adds a little more refinement to the whimsy of a vividly-colored home and complements a slate gray roof exceptionally well. Adding gray accents to the front of the home, like pillars made of gray stone or a dark gray door, will help to further balance the colors and add sophisticated style to the warmth and happiness of the yellow hue.
Black or Dark Gray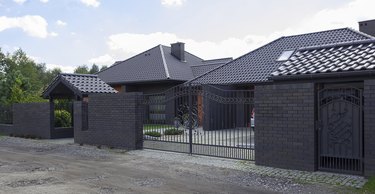 A house painted an ash-like black shade or a darker shade of gray than the roof is sleek and modern. You can offset this monochromatic look by painting the front door a striking shade of red like ruby or cranberry to add a pop of color that will make your home one of the most attractive on the block. Further enhancing the gray and black scheme can include painting the door a charcoal gray when the brick or siding is a lighter shade or adding black shutters to the windows as a complement to the gray theme.
Muted or Medium Red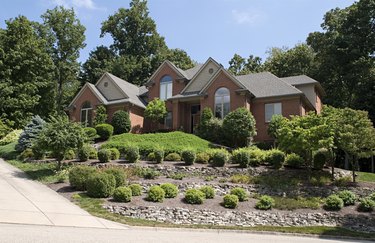 Gray and red look good together because they are the combination of bold and understated color. A muted shade of red like a blush or intense pink is visually appealing for home siding and bricks and can even make a medium gray roof more noticeable. A more intense red like cherry will stand out on a house with light and dark gray bricks and a charcoal gray roof. If the entire house is painted red, off-setting the color with shutters and a front door in a blackish shade of gray is elegant but eye-catching.