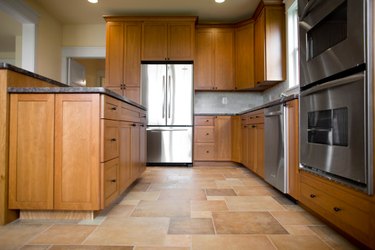 Shark steam mops clean floors with steam instead of cleaning products. The steam heats in 30 seconds and loosens dirt and grime while destroying harmful bacteria. Shark offers several models, from a basic unit to a professional model with many accessories and features. For small homes without children, the basic model should suffice. Consider the larger models if you have children, pets or lots of hard flooring surfaces.
Size and Cost
The Shark steam pocket mop has a larger water chamber and longer cord than the steam mop. The larger water chamber makes the steam pocket mop slightly heavier. At publication, the Shark steam pocket mop cost around $160; the steam mop cost around $100.
Features
The steam mop works well for lightweight cleaning tasks, but lacks the features provided by the steam pocket mop. The steam pocket mop has a swivel head feature and mop pads in several different sizes and shapes to reach nooks and crannies. The steam pocket mop also has a removable handheld steamer for steaming other surfaces, such as shower tiles or countertops. The steam pocket mop comes with seven microfiber pads; the steam mop comes with two.
Care
Clean the microfiber pads after each use by washing them in a regular wash cycle. Use liquid detergent. Powder detergent, bleach and fabric softeners leave a residue that can cause floors to have a cloudy or streaked appearance. Replace the pads every two to three months. Vacuum or sweep the floor prior to mopping with the steam mop. Shark steam mops are safe for vinyl, tile and sealed hardwood floors. Do not use the mops on waxed or unsealed wood floors.
Considerations
Shark offers two professional grade steam cleaning mops in addition to the steam mop and the pocket steam mop. These products offer variable cleaning levels for light cleaning, regular cleaning or deep cleaning. The products also come with more accessories and a larger water chamber.