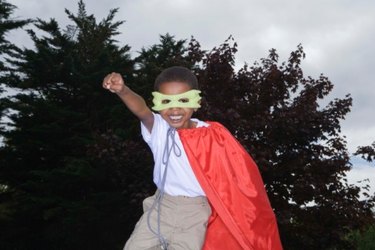 Vacation Bible school (VBS) can be a fun activity for children. Successful VBS programs blend together games, snacks, crafts and Bible lessons in a way that keeps children excited and paying attention. A superhero theme can be very appealing to children and a good way to introduce biblical heroes. Several crafts can be incorporated into a superhero theme.
Costumes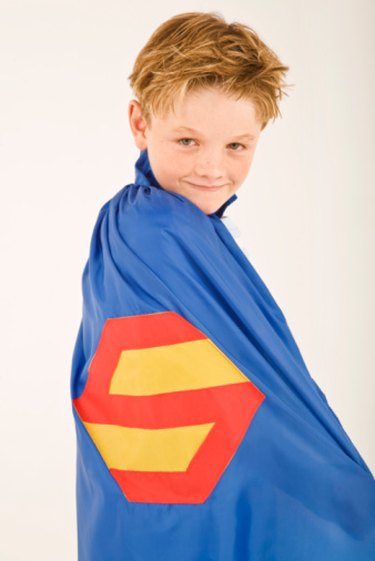 When thinking about a superhero, often times the first thing that comes to mind is the costume. Have children create pieces of their own superhero costume. Using markers and fabric, children can create their own superhero capes. Give each child a piece of fabric cut large enough to be a cape. Allow the children to decorate the fabric. Using safety pins, attach the cape to their shirts. Masks are another fun part of the costume, and children can make their own masks using paper plates, scissors, crayons, a hole punch, and yarn. Provide each child with a paper plate. Have them cut out eye holes and a mouth hole from the plate. Allow them to decorate the plate, and when they are finished punch a hole on either side of the plate and attach yarn so they can tie on the mask.
Action Figures
Children often enjoy playing with action figures. An aluminum foil action figure is easy to make, and can be adapted for all skill levels. Provide each child with an ample supply of foil, and allow the children to sculpt it into action figures. After they make the figures, the children can play with them. Another way for children to create their own action figures is with modeling clay. This activity can be extended over two days if necessary. Provide modeling clay for each child, and allow them to sculpt the clay into a super hero. Let the clay dry overnight. The following day they can paint their superheroes.
Superhero Stories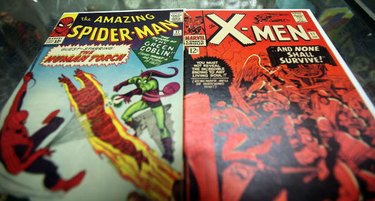 Although there are several superhero stories, children often enjoy expanding on the existing stories or creating their own. One way to do this is with comic books. Provide each child with sheets of paper containing blank comic strips. Have the children write and illustrate the books. Let them share their books with each other. Another craft idea which allows children to create their own story is to have them make a movie poster about a superhero. Provide each child with a poster board and markers, and let them create an advertisement for either a real movie or a fictional movie. Line the hallway with the posters to create a mock movie theater.
Edible Crafts
Children will enjoy creating something they can not only look at, but also taste. One example is to make superhero cupcakes. Provide each child with an undecorated cupcake and a supply of icing and toppings, and allow them to decorate the cupcakes in a superhero theme. Another edible craft is a superhero cookie. Give each child a plain sugar cookie. Supply frosting pens, and encourage the children to draw pictures of their favorite superheroes on the cookie. When the project is done, they can eat their masterpieces.