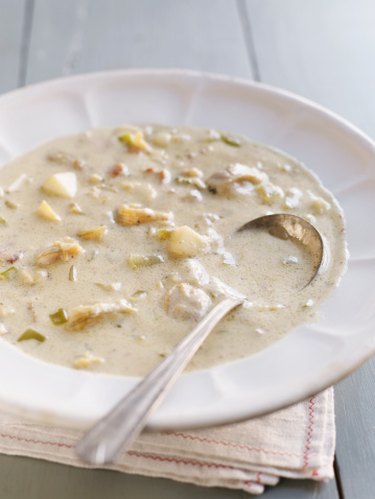 There are several types of clam chowder, most of which hail from New England states. New England clam chowder and Manhattan clam chowder with their respective white and red colors are the most popular. Other well-known clam chowders are Hatteras, Minorcan and Rhode Island clam chowders. Some restaurants prefer to create their own recipes as well, creating even more types of clam chowder.
New England Clam Chowder
New England clam chowder is made from a milk or cream base. The chowder traditionally uses clams, hardtack crackers -- which were popular among sailors in New England -- potatoes, bacon and onions. Menus sometimes list "quahog" as an ingredient. Quahog is a Native American term for clams and is still used by New Englanders today. New England clam chowder has been famous for centuries; in fact, Herman Melville even wrote about clam chowder in "Moby Dick." New Englanders are strict about the ingredients for their clam chowder as well, specifically that there should be no tomatoes. In 1939, an assemblyman even attempted to pass a law to make it a statutory offense to add tomatoes to a chowder.
Manhattan Clam Chowder
Manhattan clam chowder is made from a clear broth and uses tomatoes to add flavor and a bright red color. Those very tomatoes that are so offensive to a New England clam chowder define the Manhattan version. In the mid-1800s, with large numbers of Italian immigrants moving to the east coast, specifically the New York area, tomatoes in clam chowder grew in popularity. The chowder was known by different names, including Coney Island clam chowder and Fulton Market clam chowder, but eventually became Manhattan clam chowder.
Rhode Island Clam Chowder
Rhode Island clam chowder traditionally uses a clear broth. The clear broth chowder is more popular among natives of Rhode Island and is made with clams, broth, potatoes, bacon and onions. Many older restaurants and hotels in Rhode Island and throughout New England will serve both a New England clam chowder and a Rhode Island clam chowder for tourist and native diners. A few locations serve a red chowder variation which uses a tomato broth base. This variation is still different from Manhattan clam chowder because it does not use tomato chunks or other vegetables.
Hatteras Clam Chowder
Hatteras clam chowder is found only in the North Carolina Outer Banks area but it is a very popular variation on clam chowder. Hatteras clam chowder is a bit of a blend between New England and Rhode Island clam chowders. The chowder is made with clear broth, potatoes, onions and bacon but it adds flour to thicken it. Hatteras clam chowder is often heavily seasoned with black or white pepper.
Minorcan Clam Chowder
Minorcan clam chowder is St Augustine, Florida's take on Manhattan clam chowder. The chowder is made just like Manhattan clam chowder, with chunks of tomatoes, but it adds datil peppers which are very hot. In 1768, 1,403 people from Minorca -- an island along Spain's coastline -- went to Florida as indentured servants, though they were treated like slaves. In 1777, the remaining Minorcans escaped to St. Augustine and brought their native recipes, one of which was a simple tomato-based chowder. Minorcans added datil peppers to the chowder and the name has stuck ever since.