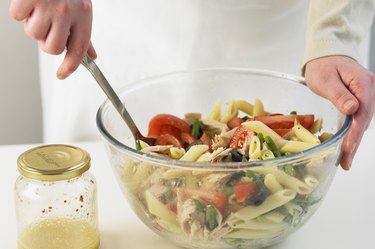 Salads as side dishes for ham open up a world of flavors, textures, colors and aromas to accompany the usual sides. Although a salad can stand alone with a plate of ham, choose the best salad for the occasion and for the other dishes being served. For instance, a ham dinner with candied yams and macaroni and cheese might not pair well with a sweet fruit and nut salad, while coleslaw might be too casual for a formal dinner featuring a spiral ham.
Mayonnaise-Based Salads
Mayonnaise-based salads like potato salad, macaroni salad and coleslaw are familiarly grouped with ham. If all are frequent sides at your dinner table, try a salad with more texture and flavor.
Broccoli salad, which combines fresh, chopped broccoli with shredded cheese and chopped onions, goes well with cold, sliced ham left over from Sunday dinner. The recipe offered by Mel's Kitchen Café includes crumbled bacon and a dressing made with mayonnaise, sugar and a dash of vinegar. Broccoli salad has crunch and a hint of sweet and tangy to awaken the flavor of cold, glazed ham. Dress up a platter of sliced deli ham and hard rolls with a bowl of broccoli salad; the spicy flavor and aroma of onions, vinegar and sugar heighten the light sweetness of the ham.
Most mayonnaise-based salads are cold, but the recipe for cooked vegetable salad adds mayonnaise to a mix of boiled and chopped potatoes and carrots; green peas and chopped apples; and hard-boiled eggs seasoned with salt, pepper and a little mustard. Spice up the mustard with a pinch of red pepper and a dash of sugar to complement warmed-up honey-baked ham served at a repeat performance after a holiday dinner. In addition to the mustard, which plays off the honey and salt of the ham, the full array of vegetables in this salad turns a few slices of ham into a full meal.
Cold ham salad is another mayonnaise-based salad. Make the ham salad or just add cubed ham to any of the traditional mayonnaise-based salads -- potato or macaroni -- or add the ham to the broccoli salad. Cornbread salad, made with chopped ham, corn and crumbled, cooked cornbread, combines the ingredients for a ham dinner with cheese and dressing for the contrast of sweet and zesty that works so well with ham.
Leafy Green Tossed Salads
Fresh leafy greens of any type make a good salad with just a few ingredients and a light dressing. Whether you decide on a basic green salad or one that is chock full of flavorful ingredients, a combination of sweet, spicy and tart is a worthy partner with ham.
Start with fresh collard greens, spinach or kale, washed and cut, and add crumbled feta cheese, halved cherry tomatoes and a tangy vinaigrette. This simple, flavorful salad adds tang and spice to the warm, sweet flavor of ham and leaves room for the heavier sides that often accompany the ham dinner.
Kraft's recipe for a salad made with kale and romaine lettuce includes cooked and cubed potatoes, cucumbers and radishes. Toss the salad in Caesar dressing and top with Parmesan cheese and sliced hot peppers. The combination of zesty and spicy contrasts well with cured ham, which can be a little salty. The salad greens and potatoes can soften the salty flavor of cured ham.
Layered Salad
A layered salad served in a glass bowl adds to your table's beauty with ruffles of green surrounding the colorful ingredients. If the boiled eggs and bacon bits of the traditional seven-layer salad seem a bit much for a ham dinner, layer any combination of ingredients that suits your fancy. For instance, chop and mix together tomatoes, green peas, corn kernels and chopped green onions and toss the mixed vegetables in the sweet and tangy vinaigrette until well coated. Layer mixed greens and the vegetable mix and garnish with cucumbers. This salad goes well with an informal cold or hot ham dinner.
Fruit and Nuts
A fruit and nut salad adds a festive touch to a holiday ham dinner. Make the salad with just fruit, nuts and a thin dressing for binding or add the fruit and nuts to a leafy green or broccoli salad. Use a recipe or create your own salad with a combination of cranberries; apples; pears; tangerines; raisins; or apples tossed with walnuts, almonds or pecans. The fruit and nut salad, served in individual small bowls, goes well with a formal dinner featuring a honey-baked spiral ham or a fully dressed ham with pineapples and cloves.