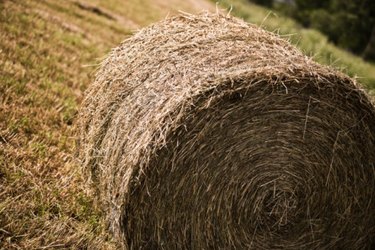 Hay bales dotting fields offer a scenic sign of fall; yet with a little creativity, these large round bales can also be transformed into decorative works of art. Whether you're setting up for an outdoor party or entering a hay bale decorating contest, there are plenty of ways to adorn round hay bales.
Animals
Turn a round hay bale into a farm animal by adding a face, ears and a few other features. For example, make a rabbit from your hay by cutting out two round eyes, a triangular nose and two oval ears from cardboard. Attach them to the hay with metal wire. Stab sticks into the hay bale around the rabbit's nose to make whiskers and create a fluffy tale from pillow stuffing. Pigs, sheep and cows are a few other farm animals that can be fashioned out of round hay bales.
Lights
Use colorful lights to add some flair to your round hay bales. Weave colorful twinkle light strands around the bale to outline its shape, or consider making a spiral of the lights swirling around its center. You can also make patterns from the glow, such as stars or written words. Use a variety of colors for added decoration. Just ensure the lights are safe to use outside. Also, never use an open flame, such as a candle, in your decoration. This could catch the hay on fire.
Flowers
Decorate a hay bale with some natural beauty by lining it with flowers. Buy a few colorful bouquets and separate each flower from the bunch. Then stick them one by one into the hay bale with only the blossom showing. Decorate the bale with random flower placement all around or make a design with the plants. Any blossom will work for this decoration, although consider buying flowers that complement the season, such as sunflowers for fall.
Paint
Use the hay bale as your canvas by covering it with paint. Spray paint offers an easy way to apply the color when used in a well-ventilated area. Cover the entire hay bale in one base hue and spray colorful shapes or messages all around. If you're unsure of your artistic abilities, buy a large stencil to create desired shapes. You might also fashion the entire bale into an object, such as a house, by painting on a roof, windows and doors, or a Halloween pumpkin using orange paint and a black face.