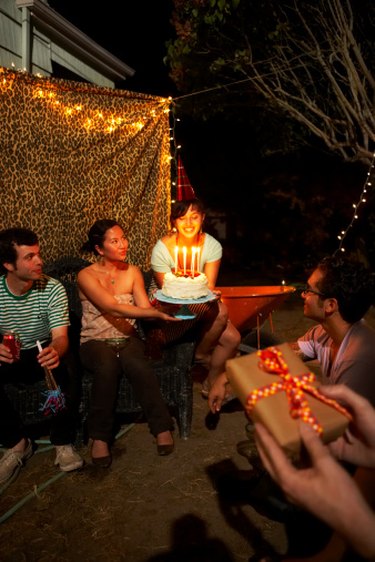 A 42nd birthday party can be more relaxed and fun-filled than a milestone birthday, like turning 40. Avoid an "Over the Hill" theme, as this has been overdone and also might not be appreciated by the birthday man or woman. Stick with lighthearted themes like casino night, old Hollywood night or a destination birthday, or even plan the celebration around a specific event, such as a concert or a play.
Casino Night
A casino night is a good party for adults because it is both exciting and also encourages interaction among party-goers that may not know each other very well. Poker tables, casino chips and card games can be rented from party shops. Decorations can lean toward a Las Vegas theme, complete with martinis and high-end finger foods, such as steak bites and dessert fondue.
Old Hollywood Theme
Encourage your party guests to dress up in evening gowns and tuxedos. Give guests enough notice to pick out or rent their outfits. Screen a classic movie from the Golden Age of Hollywood, like "Cat on a Hot Tin Roof," or choose a theme, like film noir. Show "Citizen Kane" while dining on canapes, caviar and blinis and Champagne. Play music before and after the movie from the 1920s to the '40s on a record player, if possible.
Destination Party
This type of party takes planning. Let your guests know up to a year in advance if air travel is included and how much each party-goer should expect to pay for the trip. Book hotel rooms, flights and cruises together to save money. Tell your friends not to bring gifts to this party, since they have to pay expenses. Understand that not all your friends will be able to afford a destination birthday party. Offer to pay part or all of the expenses if you really want your friends or family to attend.
Concert or Play
Organize a party around a concert or a play coming to your town. Offer to pay for the guests' tickets to the event. If you cannot afford to buy tickets, tell your guests not to bring gifts. Try to buy blocks of tickets so you can all sit together. Send out invitations early enough to guarantee attendance. On the invitations, suggest meeting before the event for a drink at your house and after the event for birthday dessert.