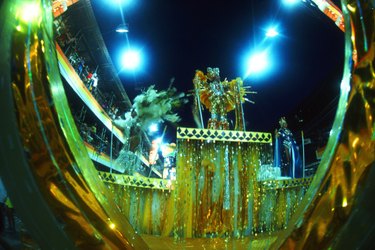 Parades are full of color and excitement. There are thematic floats, interesting, funny and even strange characters and a wide variety of visual stimulation. A nighttime parade offers a different experience for the viewer. There are interesting light displays and special effects that are not possible in the daytime. Create a nighttime parade float and implement a variety of different lights and special effects.
Lighted Decorations
Use lighted decorations to illuminate your nighttime float. Lighted decorations are found at big box stores and home and garden stores around holidays. Plan for your float in advance of the event and check these stores around the holidays for lighted decorations that work with the float theme. Lamp posts are for sale at home improvement stores year round and work well with a Victorian theme, as well as with street scenes. Find lighted star decorations around the holidays as people prepare for Christmas. These decorations work well with a Christmas theme, but may be used anytime in the year for patriotic or outer space themes. Illuminated arches are found where wedding supplies are sold and look good in garden-themed floats.
Metallic and Reflective Decorations
Using metallic or reflective elements in a float decoration not only helps make your lights appear brighter, but also reduces the amount of light you need to achieve the desired effect. Use mirrors, metallic fringe garland and metallic poms to give your float a reflective quality. Reflective elements bring an attractive visual to the float and may also be used as part of the theme. Use a mirror to help fulfill a "Snow White" theme. The Queen in the story asks the magic mirror who is the fairest in the land, and a mirror on a float helps tell the story. Use metallic fringe garland to create a water fountain or waterfall on a tropical-themed float.
Lights
Lights are the primary factor in the creation of a nighttime parade float. The types of lights you use, as well as their placement, are important to the float's overall appearance. Christmas lights work well on nighttime parade floats. Though not as bright as other lighting options, Christmas lights can be clustered to create interesting effects. A pool of blue lights on the base of the float represents water, while a tree filled with white lights gives an enchanted appearance. Other lighting options include flood, spot and colored lights. If there is a particular feature you want to highlight on a float, use a spotlight to draw attention to it. If you are having actors and actresses moving on the float, have a lighting person on board to move the light to the place of action, or have the spotlight on a timer. Colored lights create interesting effects. Shine a red light on a white wall to give it a rosy hue. Colored lights create drama on a float.
Glow-in-the-Dark and Black Lights
Use black lights to create an interesting nighttime parade float. Set up black lights on the float and use a lot of white and neon colored items for float props. Draw images on float surfaces or write messages in glow-in-the-dark paint, which shows up when exposed to black lights. Use glow-in-the-dark stars, which are found at party and dollar stores, on floats with an outdoor or celestial theme. Fog machines and strobe lights also work well with a black light float.