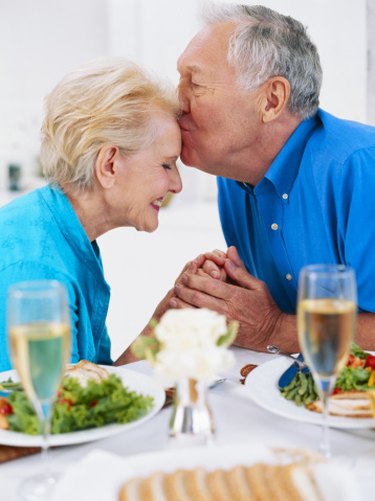 Planning a birthday party for a woman on the cusp of 80 is different than planning for most any other party. This milestone birthday is truly a special one, both for the lady of the day and her family. Whether celebrating a large party for the honoree or a quiet family get together, keep her schedule and sensibilities in mind so she does not tire herself out.
Plan a Party
Arrange a party for the 80-year-old woman's family and friends. The party can be as informal as an afternoon tea or as glamorous as a sit-down dinner party. What's important is that the people there are those who matter the most in her life. Decorate the venue in the honoree's favorite color and hire a local band or orchestra to play songs from her era. Request the birthday girl's children and grandchildren to say a few lines about their treasured elder. If she's up to it, ask the honoree to give a short speech, as well.
Family Get-Together
A party doesn't have to be big to be meaningful. In some cases, a quiet family celebration might be preferable. Inform family members beforehand so they can make travel plans and clear their schedules. The celebration can come as a family picnic, a visit to a park, or a dinner at home or in a special restaurant. Hire a professional photographer to take photos of the birthday honoree and the family. Frame the photos and deliver or mail them to her children, grandchildren and great-grandchildren to preserve memories of the day.
Birthday Visit with Friends
Surprise the birthday girl in the morning by arriving at her door with a box of photos, classical movies, edible treats and other items she may enjoy. If the 80-year-old lives in an old people's home, inform the management beforehand so you know her timings and work around them. Spend the day reading to her, watching old family videos and photos, cooking and listen to her reminisce about her past. Be sure to bring a cake, and invite other old people, any of her friends, and the nurses from her floor to join the celebration when she blows out her candles. The elderly lady will love the attention and effort you spent making the day special for her.
Birthday Gifts
Ask the 80-year-old's family to contribute towards a single meaningful present on her birthday. This relieves her of the tiring task of unwrapping many presents, and gives her something she might really need. Ideas include sending her on an age-related vacation, giving her comfortable recliner, hiring her a full time nurse or giving her a discount card for a local grocery store if she lives on a fixed income.