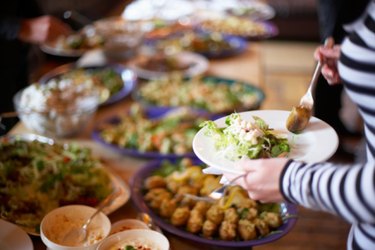 Set your buffet table for your guests to easily serve themselves. Arranging your selections so that the guests have access to both sides of the table will speed up service for 100. Keep in mind, only a few selections are required since lunch is typically a light meal. Follow this checklist to ensure you have everything you need for a successful lunch buffet.
Menu
Your menu should consist of an entree, two side dishes, salad, rolls or bread and a dessert. A menu of fried chicken, broccoli, potato salad, tossed salad and pie will provide a well balanced lunch. To serve 100 people, 75 pounds of chicken, 30 pounds of broccoli, 14 pounds of salad greens, 3 and a half gallons of potato salad, 9 dozen rolls and 16 8-inch pies are recommended. If your guests are all men, increase the quantities by 10 percent.
Serving Utentsils
You will need warming trays to keep hot entrees at the proper temperature. Provide tongs, serving spoons and serving forks.
Place settings
Arrange plates, utensils and napkins at the beginning of the buffet table. Your guest can gather their own place settings before continuing in the buffet line. You should have place settings for 120 to allow for guests who may help themselves to a second serving.
Beverages
Beverages can include coffee, hot tea, iced tea and lemonade. Six to 8 gallons of iced tea or lemonade is recommended and approximately 30 servings of coffee and/or tea. Also provide 120 cups, coffee stirrers, cream, sugar, lemon slices and sweeteners.
Extras
You will need a gallon of salad dressing and 100 butter pats. You will also need 120 dessert plates and forks.