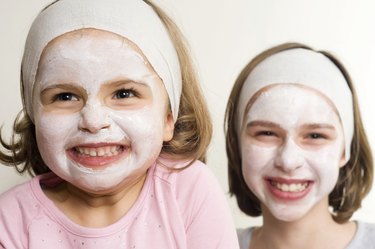 A spa day that includes relaxing, chatting with others, receiving a beauty treatment and enjoying a yummy healthy drink or snack is a luxury for adults -- but it's also a fun party idea for your favorite preteen girl. "Kids always want to imitate what adults do," said Patti Biro, a brand consultant who works with spa industry clients. "They also just want to enjoy the things adults enjoy about the spa: some 'me time,' some kicking back time." Putting together a spa party is easy and can be done with a range of budgets. The secret is to include small details that make a day of pampering feel luxurious but are not expensive or difficult to recreate.
Party Treat(ment)s
First, decide what types of spa treatments will be offered at the party. Some fun and age-appropriate options include hair styling, facials, make-up lessons, manicures and pedicures, said Biro. If hosting the party at home, most of your spa products can be purchased at a local drugstore or beauty supply shop. Some spa treatments, such as facials, can be done with homemade ingredients. Facial masks are fun because they make the girls look silly while they dry -- choose a store-bought product that smells good or do-it-yourself. An easy favorite is a mask made with prepared oatmeal, milk and honey combined into a smooth paste-consistency. Don't forget the cucumber slices for their eyes.
Hair and Makeup
Consider bringing in a cosmetics student to style the guests' hair or teach a makeup lesson, or allow the girls to create hairdos for each other. Offer plenty of colorful ribbons, hair bands, bobby pins, barrettes and a variety of temporary hair color sprays. But keep the scissors hidden -- you don't want any angry calls coming later from your party guests' parents after an impromptu haircut.
For makeup and manicures, invest a small toolkit that features brightly colored eye shadows, pink and red lipsticks and a rainbow of nail polishes. Keep makeup and polish remover on hand so the girls can experiment with multiple looks.
Good Clean Fun
It's important to keep things as sanitary as possible. Make the guests use cotton balls and swabs as disposable applicators, and wipe tools like eyelash curlers between users. Use new cosmetics, if possible, and purchase individual brushes for each girl. A dollar store can provide a budget-friendly place to purchase supplies such as nail files and terrycloth head bands for when the girls do their facials. For an extra touch, provide matching robes or T-shirts for each girl. That way, they don't worry about mussing up their clothes with the makeup and facial products.
Decorations and Swag Bags
Decorating for your party is easy: Choose a color theme and purchase tablecloths, plates and headbands in that hue. The room should have tables set up with the makeover ingredients, along with a chair for each guest, hand towels and mirrors so the girls can check out their looks. Colorful throw pillows for girls to rest their heads while their masks dry would be a plush extra.
Beauty supplies can be put into handled bags that can be presented to party guests when they arrive. The bags can also be filled with other spa-themed gifts, such as bubble bath, that the girls can take home.
Spa Snacks
Food for the party can build on the grown-up feel with a buffet of such finger food as fruit kabobs, tea sandwiches, mini quiches, crunchy veggies, dip, cheese slices and crackers. Indulgent extras could include chocolate fondue with berries and marshmallows, brownies bites and cupcakes. Pink lemonade, fruit-infused water or smoothies are good drink options.