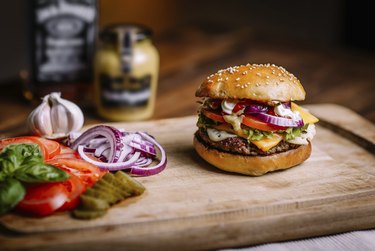 Hamburgers are quick to cook, don't require much skill and almost always turn out, even for novice chefs. Serve with a toasted bun and the requisite ketchup, mayonnaise and mustard, or vary the burger with more exotic seasonings such as spicy jalapeno peppers or tangy chopped olives. Pair the hamburgers with a variety of side dishes for a twist on this all-American meal.
Potatoes
French fries are the classic side dish with hamburgers, but they're not the only potato dish that works. A barbecue with hamburgers but without potato salad or grilled potato chunks isn't a barbecue. Potato chips, whether homemade or store-bought, go with hamburgers, as well. Potatoes offer a contrast to the burgers in color, texture and flavor. Offer dipping sauces with a difference for the French fries or potato chunks: mayonnaise mixed with salsa, sour cream and dill, or ketchup spiced up with cayenne pepper. Put the sauces on the hamburgers, as well.
Beans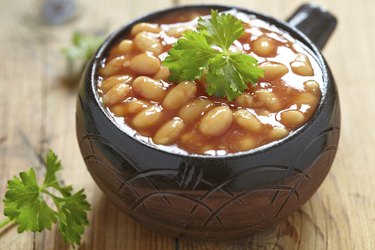 Baked beans work well with hamburgers, and these days there are lots of varieties to choose from. Add chopped fresh onions, bacon bits and chopped green peppers. Crumble leftover hamburger into leftover beans for lunch the next day. Cowboy beans are spicy, rather than sweet like baked beans. Refried beans' creamy texture goes well with the crunchiness of a crisply browned hamburger.
Toppings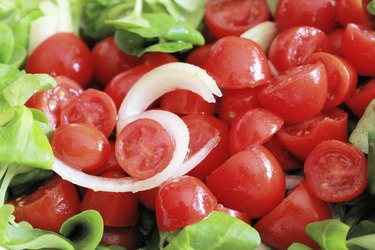 A hamburger isn't a hamburger without toppings. Add lettuce, tomatoes and sliced raw onion, or amp up the taste with thousand island salad dressing made with mayonnaise, ketchup and sweet pickle relish. Sauteed mushrooms and sweet peppers can be used as a vegetable side dish or to top hamburgers. Make a Greek burger with a side salad of tomatoes, cucumbers, green peppers, olives and feta cheese.
Coleslaw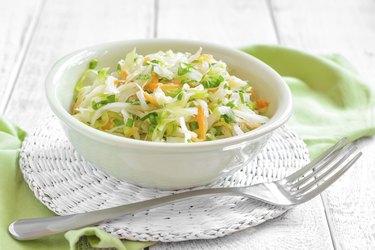 Coleslaw can take the place of a green salad or substitute for lettuce on top of a burger. It has more flavor than lettuce, and provides a creamy dressing for the burger, since it's made with mayonnaise. Go a step further than cabbage coleslaw and make a slaw from radishes and cucumbers or summer squashes. Add in an apple for a taste of sweetness instead of making the coleslaw dressing with sugar.
Breads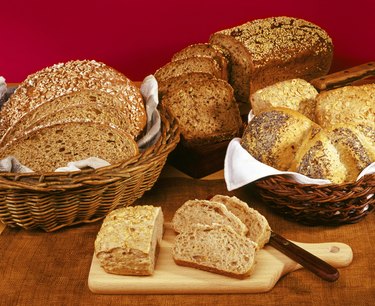 Breads aren't usually considered a side dish, but they can make or break a hamburger. Vary the breads from the standard hamburger bun for more variety. Rye bread changes the hamburger into a patty melt when you add cheese and sauteed onions. Sourdough adds tanginess; pair it with bleu cheese. Corn tortillas change a hamburger to a Southwest treat when you add sliced hot peppers, cilantro and cheddar cheese.