Nothing feels more deliciously indulgent than homemade nachos. What makes them guest-worthy? Homemade pulled pork. Go ahead and make a double or even a triple batch of this tender, melt-in-your-mouth pork to give yourself a weeks worth of meals. Try some pulled pork tacos, sandwiches and even a pulled pork eggs Benedict!
Things You'll Need
4 pounds pork shoulder

2 teaspoons kosher salt

1 tablespoon brown sugar

2 teaspoons chili powder

1 teaspoon onion powder

1 teaspoon garlic powder

1 teaspoon cumin

1/2 teaspoon smoked paprika

1 tablespoon olive oil

1 cup beef broth

1 pounds tortilla chips

4 cups cheddar cheese, shredded

1 jalapeno, chopped

1 large avocado, diced

1/4 cup chopped cilantro

1 cup sour cream
Step 1: Season the Pork
Sprinkle the pork on all sides with the salt. Stir together the brown sugar, chili powder, onion powder, garlic powder, cumin and smoked paprika. Sprinkle the pork on all sides with the spice mixture.
Step 2: Sear the Pork
Heat the olive oil in a Dutch oven over medium high heat. Sear the pork on all sides.
Step 3: Add Broth and Bake
Pour the broth over the pork. Cover and bake in a 350 degrees Fahrenheit oven until fork tender, about 3 hours. Turn the meat over one or twice during cooking.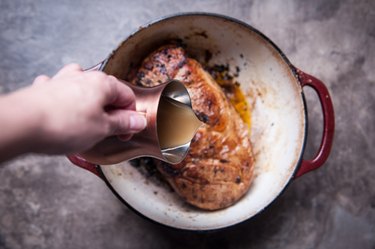 Tip
Want to make it even easier? Add it to your slow cooker! 4 hours on high, or 8 hours on low.
Step 4: Pull the Pork
Remove the pork from the pot. Shred using two forks.
Step 5: Star with a Layer of Chips
Add a layer of tortilla chips on an oven-safe platter (or a baking sheet lined with aluminum foil).
Step 6: Add a Layer of Cheese and Meat
Add a generous layer of pulled pork and cheddar cheese.
Step 7: Add Another Layer of Chips
Add another layer of tortilla chips, covering the meat and cheese layer.
Step 8: Finish with a Top Layer
Top with more pork, cheddar cheese and jalapeños.
Step 9: Bake
Add platter to a 450 degrees Fahrenheit oven until the cheese has melted, about 6 minutes.
Tip
Want to make it the cheesiest, creamiest nachos ever?! Add beer cheese sauce after baking!
Tip
Make it your own! Add you favorite toppings: guacamole, bacon, salsa, tomatoes!
Step 10: Add Toppings
Sprinkle with diced avocado, cilantro and sour cream. Serve immediately.