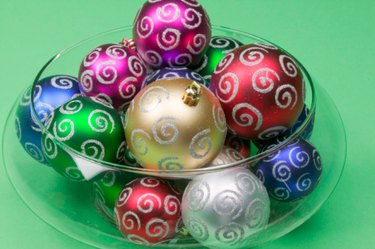 Decorating inside a glass bowl is an inexpensive way to create a variety of different looks for your dining room table or any room in your home. You can change the inside decorations according to the seasons and holidays or for special occasions and achieve many different looks and styles with one glass bowl. Choose flowers, fruit, pebbles or create your own sand art.
Holiday Decorations for Glass Bowls
Glass bowls filled with Christmas ornaments make a colorful table centerpiece during the holidays. Other options at Christmastime include filling glass bowls with candy canes, artificial poinsettia leaves or with holly. You could also use red or green candles inside a glass bowl in any room of the house. At Thanksgiving, place small pumpkins or gourds inside a glass bowl. For the fourth of July, place red, white and blue candles inside a glass bowl for a patriotic decoration.
Glass Star Bowl
Use a glass bowl in the shape of a star to decorate your dining room table, or place it in another room of your home. Put small floating candles inside the glass star bowl to freshen the air with a scented candle. Alternatively, use a candle that is color coordinated to the room. The glass star bowl can also be filled with potpourri, candy or small chocolates.
Glass Bowl Wedding Centerpieces
Fill glass bowls for wedding/shower table centerpieces or for general decorations. Place fresh or silk flowers with short stems in a glass bowl with or without adding water. Use the colors the bride has chosen as her wedding colors. When hosting a kitchen bridal shower or as a general kitchen/dining room display, put food items in a glass bowl. You can put whole lemons or limes inside the glass bowl, or slice up lemons and put them in a glass bowl in water. Add a flower or two to the fruit centerpiece.
Creative Decoration Ideas to Fill Glass Bowls
Think outside the box when filling glass bowls for unusual decorations. Put a variety of feathers, small stuffed animals or seashells in the glass bowl. For a beach theme, add pebbles of different sizes, shapes and colors. You can purchase pebbles/stones at craft stores and some dollar stores. Pour colored sand in layers into a glass bowl to create a work of art.