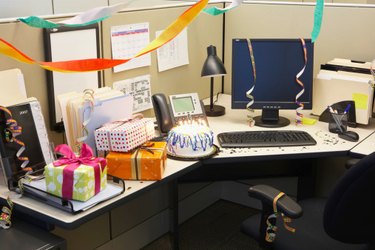 The Internet can be a convenient and fun tool for organizing a successful birthday party, or even just an easy way to make your friend's birthday special. It can provide a convenient way to purchase birthday gifts or send birthday invitations or cards. It can provide a venue for a virtual birthday party, or even become the theme of a live birthday party. Next time you are unsure of where to get a gift or card, or how to celebrate a birthday, turn to the expansive online world.
Online Birthday Gifts
Sometimes the hardest part of celebrating a friend or family member's birthday is finding the right gift. Whether you live far away from shopping areas, or your birthday friend is the gal who has everything already, the Internet provides the equivalent of antique stores, specialty stores, department stores and gift stores for completely unique homemade items, all in one place. You may also choose to give an gift related to the online experience: such as web domain name named after the birthday celebrant, or a membership to a paid website.
Online Birthday Invites and Cards
The Internet has thousands of designs for online invitations and cards, and many of them are free. Most wired individuals will find it convenient to receive a birthday party invitation directly in their email inbox or social networking site inbox. That way, they can directly add the event to online planners and calendars.
Sending an online birthday card to the celebrant is also a great option. You can find serious cards or lighthearted cards or gag cards, and the cards are easy to send, so you won't let your friend down even if you are too busy to use snail mail.
Birthday Party Celebrated Online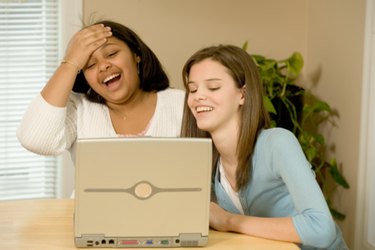 It's difficult to be alone on your birthday. If the birthday person is traveling, or has just moved to a new place, an online birthday party may be the way to go. Set up a private chat room, invite friends of the birthday person, and then you can gossip, tells stories and make jokes as if you were at a real birthday party. Make sure that no matter how physically far away the birthday person is, her birthday is an opportunity to socialize and catch up with friends and family.
Online-Themed Birthday Party
There's nothing more fun than a birthday party with a good theme, and whether your friends are Internet hipsters or total net geeks, an online theme party presents lots of fun possibilities. For an ice-breaker, have each guest try to guess each other person's favorite website. Have people dress up as their favorite viral video character, bake a computer-shaped cake, and play games like a World of Warcraft-themed scavenger hunt or an online-themed charades.