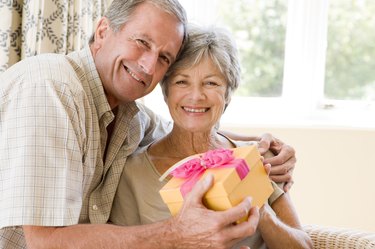 When you're preparing to raise a glass to honor a couple at their wedding anniversary party, kick up the event's fun factor by having a series of entertaining questions in your hip pocket. Skip the mundane, run-of-the-mill topics that other guests will assuredly ask in favor of those that will yield unique responses and have the entire group laughing.
Focus on the Wedding
It's impossible to overlook asking questions about the married couple's wedding, but inject a little fun into your subject matter. Ask about the couple's first dance song and how they chose it, the food they picked and memories of the reception venue. Find out how close they've remained with those in the wedding party in the years since the big day, and ask about any lighthearted scandalous moments. For example, ask if an elderly guest suggested the bridesmaids' dresses were too short, someone had a wardrobe malfunction, or a guest drank too much and made a scene.
Honeymoon Memories
Help the party honorees recall the intricate details of their honeymoon by asking questions about how they chose the location, their initial impressions upon arriving, and any surprises they encountered. For example, if they vacationed at a resort, did they summon the courage to visit a nude beach? Ask if they did anything risque or brave, such as skinny-dip in the resort's pool at night or take a trek through the jungle. Ask about any memorable meals the couple shared. If it's been decades since the couple's honeymoon, ask about the prices of airfare, hotels and restaurants to compare to present-day costs.
Married Life
Inject fun into questions that force the happy couple to think about their years as a married couple. Ask about some of the funniest moments they've shared or the hardest they can recall laughing together. Tailor your questions toward their interests, keeping fun in mind. If they enjoy traveling, for example, ask if they ever got lost while driving and how they reacted, or ask about the strangest food they ever ate in a foreign country. Suggest hearing a story about a time one spouse did something that drove the other nuts.
Fun in the Future
Although wedding anniversaries are an opportunity to reflect, they're also a chance to look forward. Ask the couple about their hopes for the future and keep your questions light, rather than philosophical. Ask what fun adventures they plan to tackle together, how they envision changing as a couple, and if the man will ever learn to put the toilet seat down. Other question topics include what fun goals they have for the future, such as traveling, starting a small business, or having fun with grandchildren.