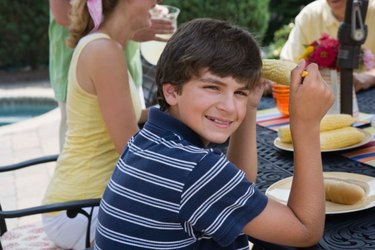 Celebrate summertime with friends and family members by hosting a corn roast party. This twist on the traditional outdoor barbecue focuses on the golden vegetable, which is cooked on the grill. Along with tasty food, the party theme -- including its unique invitation, decoration and activity possibilities -- offers a variety of features to keep guests entertained.
Invitations
Kick off the corn roast festivities right from the start with some corn-inspired invitations. Find cards that feature the golden vegetable and stick corn kernels in the envelope instead of confetti. For an even more creative invite, send a corn husk to the guest-to-be. Wrap the party information around the outside or write it right on the husk using a permanent marker. These invitations can be hand-delivered or left at the guest's doorstep as a surprise.
Food
This party is centered around corn, so brush up on your best corn roasting recipes before the big day. Herbs and spices add extra flair to the dish; experiment with different styles a few days before the party. Prepare other foods to serve, too, including chips, beans and maybe some barbecued meat. Provide plenty of refreshments, including soda, lemonade and beer.
Decorations
Get as corny as you wish when decorating for your corn roast. Use red-and-white-checkered linens to adorn the tables, giving the party a rustic outdoor feel. Instead of chairs, provide bails of hay that guests can relax on. Use the vegetable of honor as centerpieces. Arrange a few husks of corn sticking out of a vase. Find some with a lot of silk coming out of the top for added texture.
Activities
Host some corny contests for your guests. Hold a corn shucking contest; challenge guests to see who can rip off the husk, wash and bag the most corn in a given amount of time. A corn-eating contest is another activity centered around the vegetable. Water balloon and squirt gun fights offer a way to cool down during the hot summer party.