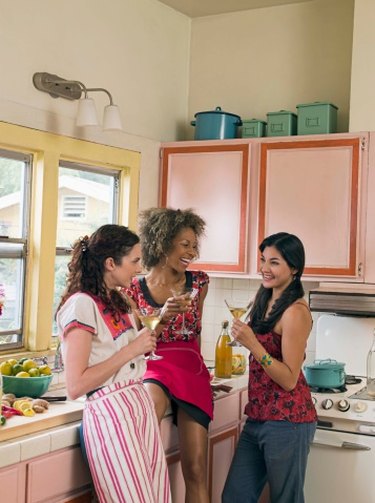 Bunco is a game of dice in which players take turns trying to accumulate points with each round. The game is played by competing teams of two at tables of four. At the end of the night, wins/losses are tallied and prizes awarded. While the competition of Bunco provides a lure for women of all ages, they also attend these parties for want of female companionship and great food. As the menu is an important part of these events, provided below are menu ideas ranging from healthy to comforting for accommodation of all tastes.
Treats
Small bowls and platters filled with easy-to-eat treats are ideal food choices for Bunco parties. Finger foods that can be eaten before, during and after play are the most viable option if a full dinner spread is not being served. It is important, however, these snacks be mess-free so hands and game equipment stay as clean as possible while playing. Among such options are pretzels, potato chips and popcorn. Wrapped candies and chocolates, M&M's and bite-sized brownies or muffins are fun and easy to eat as well.
Healthy Fare
For women who want to keep their girlish figures, healthy food may be a crowd pleaser at the next Bunco party. In addition to traditional fare like grapes, celery sticks and strawberries, new and more sophisticated ideas can also be enjoyed. For example, an antipasto platter arranged on a cutting board or large tray makes a healthy and eye-pleasing arrangement. The Good Housekeeping Research Institute recommends this spread contain one container of store-bought hummus, breadsticks, thick slices of smoked mozzarella cheese and thinly sliced salami. Radishes with trimmed tops, thin wedges of fennel, mixed olives and sliced carrots add an earthy feel.
Guacamole used for dipping bell peppers, cucumber slices and other vegetables is another healthy treat sure to please. Pita bread can also be cut into triangles, topped with parmesan cheese and baked in the oven for a crunchy but satisfying snack. Finally, bruschetta or crusty bread brushed with store-bought pesto, baked and garnished with sundried tomatoes is figure-friendly and delicious.
Themed Menus
Part of the fun with Bunco is simply getting together with friends. Themed menus can therefore add to the excitement and provide fresh ideas for food. One themed option is Casino Night, which lends itself to both simple and more complex plates. Cheese and vegetable platters, for example, can easily be incorporated into this spread. Choices like shrimp cocktail, Swedish meatballs and mini sandwiches are ideal for this theme as well. When people think of casinos, however, they also tend to think of buffets. The solution to this theme may therefore be to have each guest bring a dish that will complete the theme.
A pajama party theme is another one that works well with Bunco parties. The food for this menu can be simple but comforting, such as a bowl of hearty soup, Caesar or garden salad from a bag and bakery selection bread. A heartwarming dessert of chocolate chip cookies would ideally complete this menu.
Bar Snacks
If fun and entertainment are the general point of Bunco parties, alcoholic beverages may be served in womanly fashion. Bar snacks can bring a party together, providing rich finger foods that pair well with wine, beer and liquor. Martha Stewart, for example, recommends savory almonds baked with tamari and pure maple syrup when serving strong spirits. Mini hot dogs and cheddar cheese wrapped in puffed pastry, baked and served with mustard and ketchup are ideal for beer. Pretzels and almonds can also be coated in a mixture of melted butter, dark brown sugar and cayenne pepper, and then baked for a sweet and spicy mix. Standard bar fare like tortilla chips and salsa also work nicely for Bunco nights.