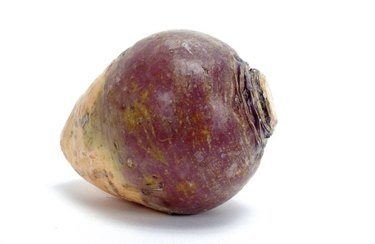 For many people, turnips are a once-a-year food found mashed alongside a holiday roast. However, these hardy and versatile root vegetables have more to offer. On their own, turnips have a slightly peppery flavor and, when cooked, they also develop a sweetness. With a little creativity, turnips can make a delightful contribution to meals all year round.
Middle Eastern Exotic
Middle Eastern spices like cumin, coriander and cardamon tease out the sweetness of the turnip and add an exotic flavor. The key is to tread lightly. For 1 lb. of roasted turnip, start by dusting with just 1/4 tsp. of ground spice. Taste the result before adding more. To make roasted turnip, peel and chop 1 lb. of turnip. Toss with oil and roast at 400 degrees Fahrenheit for 20 minutes or until browned.
Nutty Caraway
Perk up pureed turnip by adding nutty caraway seeds. Add 1 tsp. of caraway seeds to 1 lb. of pureed turnip. To make pureed turnip, peel and chop 1 lb. of turnip. Boil for 15 minutes or until tender. Mash with 1 tbsp. of butter and 1/4 cup of milk or cream.
Spicy Chili
A light dusting of chili powder and sea salt over oven-fried turnip slices will coax out the peppery flavor in the turnip and provide a nice change of pace from oven-fried potatoes. To make oven fries, slice the turnip into strips and roast at 375 degrees Fahrenheit for 20 to 30 minutes until lightly browned.
Garlic
Pale pink pickled turnip is a staple of Middle Eastern cuisine. It is made by marinating lightly boiled turnip slices in a mixture of garlic, vinegar and salt combined with a few slices of beet for color. The result is great when chopped up on falafel or served alongside grilled meats.