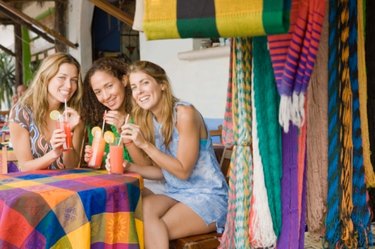 According to the World Bunco Association, the dice game has been played by women, couples and even children since the late 1800s. Nowadays, women and men often turn their Bunco game nights into full-fledged gatherings, complete with food, drinks, gifts, conversation and dice. Preparing Bunco get-togethers in the warm, summer months are a breeze.
Themes
Numerous theme options exist that can coordinate invitations, food, decorations and attire. Such themes can be as simple as a backyard barbecue or beach party. Destination themes allow your guests to spend a summer evening somewhere far away while never leaving home. Bunco can be played for breast cancer, heart disease, diabetes or any important cause to raise both money and awareness for something close to your heart.
Decorations
Decorations for a Bunco event can be as simple or elaborate as you choose. A summer Bunco event requires minimal decorations, as the outdoor scenery alone is enough to cover most of your decorating needs. Overhead lighting and candles can provide a warm glow on a summer evening. For specific themes, the decorations, such as centerpieces or buffet decor, should match. For example, miniature Eiffel towers can serve as table decorations for a Parisian event. Pitchers containing fresh-cut wildflowers can reinforce a backyard barbecue theme. Use striped umbrellas for a beach-theme. Decorating in a specific color, such as pink, can support a breast cancer theme.
Food and Drinks
Summer foods, such as salads or fresh fruit work for a summer Bunco event. By making a variety of salads, guests can select their favorite. A menu can be planned around any theme. Seafood, such as crab legs and shrimp, would support a beach-theme Bunco night, while burgers or barbecue can match an all-American event. Drinks can be weaved into a particular theme, such as lemonade and sweet tea for a backyard barbecue or cafe au lait and wine for a French destination event.
Swag Bags
Goodie bags aren't just for kids. Part of the fun of serving as a host for a Bunco event is preparing miniature swag, also known as "stuff we all get" bags for your guests. Swag bags can include small tokens of appreciation for attending the gathering. Pink pencils and T-shirts support a breast cancer-theme Bunco. Sunglasses, sunscreen and flip-flops packed in a beach bag form an option for a beach-theme event. Choose items that correlate with your theme or that simply express the summer season.