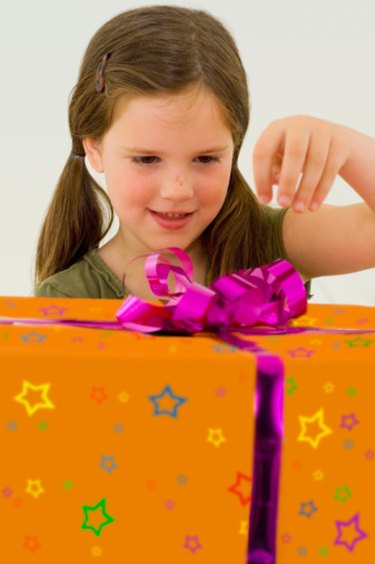 Choosing a birthday gift for an older child may pose a challenge. A 10-year-old tomboy can be particularly difficult to buy gifts for, because she may not have an interest in dolls, clothes and jewelry like some girls of that age. You will have to learn about her current interests and perhaps think outside the box to come up with creative and fun ideas for a young tomboy.
Hobby-Related Gifts
Equipment that is necessary for participating in a hobby or sport is a great birthday gift idea for a young tomboy. If she plays softball, she may enjoy a special bag for carrying her equipment; a budding artist would probably like new markers or pastels. Many girls would also likely love to receive a poster or other special item featuring a favorite athlete, movie star or musician.
Outdoor Activities
Many tomboys enjoy spending time outdoors, so gifts they can play with outside are a good choice. Classic toys like jump ropes and hula-hoops are as much fun today as they were 50 years ago. Remote-controlled airplanes and helicopters are fun and educational. If her birthday is in the summer, she may like to receive pool toys or a special float; girls growing up in colder climates might enjoy a sled or ice skates.
Event Gifts
The best birthday presents do not always come wrapped in a box with a fancy ribbon. Give a young tomboy tickets to a sporting event, concert, or play that she can enjoy with family or friends. Another idea is a special trip you take together to visit a museum, zoo, favorite restaurant or amusement park. Or go on a hiking or canoeing adventure and give her a new backpack to hold her gear. Take plenty of pictures to help remember your special day together. These memories will probably last longer than a traditional gift you could give.
Books
Take a trip to your favorite bookstore and comb the youth section and you will find many great birthday gift ideas for a 10-year-old tomboy. No matter what interests a young girl, there are books that will grab her attention. Fantasy and science fiction are more popular than ever, and a great way to spark the imagination in children.
Other girls may want to read about animals, science, or even classic youth novels that stand the test of time like "The Secret Garden," "Little Women,"or "Alice in Wonderland." She might enjoy stories about girls or women from history, such as a biography of the famous aviator Amelia Earhart or the artist Georgia O'Keeffe.