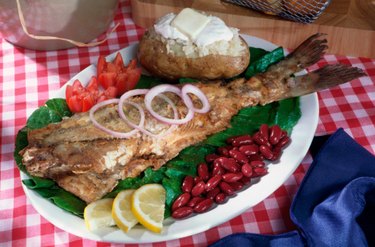 Fried catfish is an American Deep South dish, coated in cornmeal and fried in oil or sometimes bacon grease. This dish is thought to have originated in one of two traditions: the consumption of fish as a meat substitute during Lent, especially in Louisiana, or the tradition of the fish fry, a communal, picnic style event in which huge batches of fish are cooked alongside other comfort foods and served potluck style. Some of those side dishes have become synonymous with fried catfish.
Hush Puppies
Hush puppies are little more than seasoned balls of cornmeal, held together with some egg. This dish originated from the leftovers of a fish fry, where repeated dredging left over clumps of seasoned cornmeal that were eaten alongside the fish. Some versions of this dish include chopped bits of jalapeno pepper.
Cole Slaw
Cole slaw is made from shredded cabbage and typically includes shredded carrots, mayonnaise and seasonings. It is a ubiquitous picnic side dish and simple to make.
Collard Greens
Tough, leafy greens like collards, kale and mustard greens are popular in potluck style meals because they are cheap to make and lend well to being cooked in huge, simmering batches. These greens are usually flavored with a ham-hock or smoked turkey leg that goes well with the deep flavor of the greens.
Grilled Corn on the Cob
A nice counterpoint to the cornmeal battered fish is fresh corn on the cob, grilled on the husk and dipped in butter and sprinkled with salt and pepper. This is also common to Northeastern style fish frys and bakes, where potatoes and whole corn are steamed or roasted to be served with seafood.