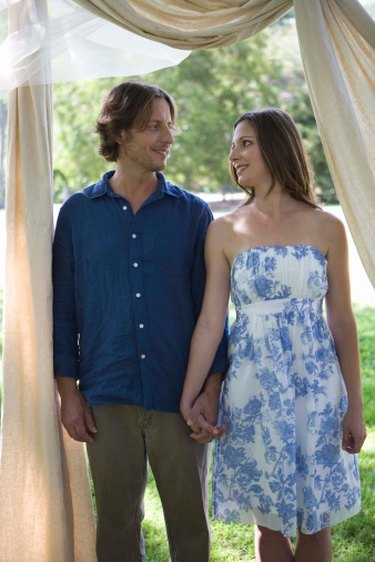 Your son is getting married and, as the future mother-in-law, you want to welcome the future bride into your family. The bridal shower is an opportunity to present her with a gift that will make her feel that she is special to you and to the extended family. Your thoughtfulness will be remembered and the gift will be treasured.
Photo Book
Most brides only know about their groom's younger life through the pictures his family has shown to her. Expand that knowledge and give her a photo book of her fiance as he was growing up. Gather photographs taken throughout his childhood and of special events in his life. Include baby pictures, school pictures and vacation photos. Organize the photos with text and have a hardback book published for her.
Jewelry
Traditionally, the bride wears "something old" on her wedding day -- along with something new, something borrowed and something blue. A generous and thoughtful gift would be a piece of family jewelry to wear on her special day. It could be a simple pair of earrings, a gold chain or string of pearls. Your future daughter-in-law will appreciate and treasure the gift.
Family Recipes
If you enjoy time in the kitchen, you probably have prepared favorite dishes for your family. A shower gift that the future bride and her groom would enjoy is copies of these recipes. After all, if you prepare these delicious home-cooked meals with love, giving the bride-to-be valuable knowledge to create these same meals shows you care for her deeply. Write the recipes on decorative recipe cards and file them in a wooden box. Include recipes from grandparents and siblings.
Photos
Celebrate the bride's and groom's lives before they met. Purchase a frame and a mat that has multiple openings. Compile photos of both the bride and groom and frame them together. Use images that were taken at the same ages. The central photo can be of the couple's engagement announcement. If you want the collage to have a more artistic and cohesive look, scan the photos, adjust them to the color sepia in a photo-editing program and print them, or order a printing company to adjust them and do the same.