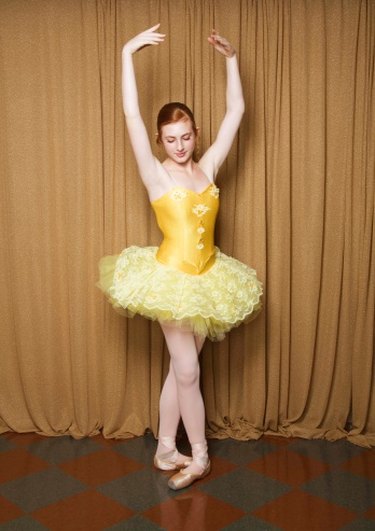 Tulle is a machine-made fabric netting. It can be made of nylon, polyester, silk or cotton and is found in such diverse items as bridal veils, mosquito netting and ballerina's tutus. Manufactured in various weights, from very fine to coarse, it comes in widths of 54 and 108 inches. It comes in a variety of colors, or can be dyed to suit the occasion. A versatile fabric, it has some properties rare in other textiles.
Net mesh
Tulle is a net fabric. The fibers are woven together in a hexagonal mesh. In finer net, this creates a delicate, transparent fabric, ideal for bridal veils, costumes and even theater sets. Mosquito netting is a very fine tulle, the mesh keeping out insects, while allowing air to circulate and the fabric to maintain its shape. Coarser net is used to wrap gifts or as bouffant underskirts.
Stiff
One of the most useful properties of tulle is its stiffness. The stiffness of tulle gives ballerina tutus their distinctive shape. Tulle underskirts are used to give formal dresses a bouffant look, puffing out the outer layer of a dress. Country square dancers use thick tulle petticoats to give their full skirts a distinctive fullness and flounce. Tulle is most often seen at weddings, but not just in the bride's veil. The stiffness makes it ideal for wrapping gifts and favors, and as swags and bows for wedding décor.
Lightweight
Many yards of tulle are used in bouffant underskirts or ballet tutus. The lightweight quality of tulle is a great asset in garments, allowing enormous amounts to be used to create the desired volume without weighing down the wearer. The lightness is beneficial in decorating as well. Long swags and bows can be attached with merely tape or ribbon. Filling a glass bowl or vase with light, colorful tulle can add an interesting decorative touch.
Dressy
Tulle, while lending itself to mundane purposes such as mosquito netting, is an elegant, dressy fabric. It is most at home at formal occasions such as traditional weddings or fancy dress balls. At the ballet it literally takes center stage in a ballerina's delicate, sheer costume or stiff tutu. It is often found in the theater, on stage in costumes or as part of the background. Soft, delicate and sheer, it adds elegance and interest to any occasion.