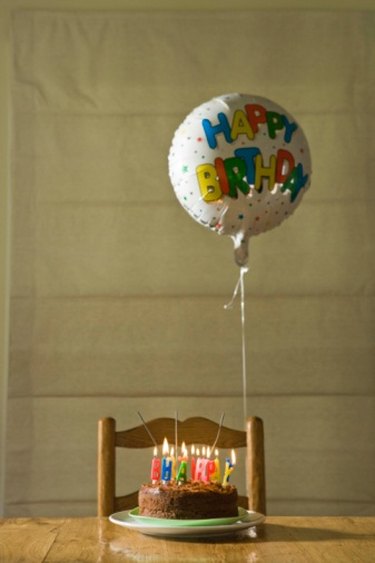 Birthday parties are fun at any age, but selecting a theme for a tween can present an interesting challenge. Children this age are no longer interested in "little kid" stuff, and yet they still might enjoy some young activities like going to the zoo and watching cartoons. Planning a 12-year-old's birthday party should include age-appropriate things that are enjoyable and fun to do.
Mall Scavenger Hunt
For a t2-year-old girl's party, choose activities that you know she and her friends would enjoy. For example, you can set up a scavenger hunt at a local mall. Some items to include on the hunt list might be a picture of a woman in red heels, a receipt for one dollar and a stranger's autograph. Make sure each team has an adult supervisor as a safety precaution. Top off the girls' day with a jewelry-making party, where the girls can doll themselves in custom-made necklaces and bracelets.
Sports Parties
If your 12-year-old likes to play sports, consider centering the theme around a favored sport. You can take the group to a party at a local youth recreation center. There, your child and friends will be able to play basketball, racquetball, volleyball and other indoor sports. Some centers also include a pool. Another sports theme involves taking your tween and a friend to watch their favorite team play. The sports event is sure to be something they'll remember for the rest of their lives.
Slumber Parties
Having friends sleep over is a fun way to spend a birthday, and you can help make the night extra special by selecting activities that you know your 12-year-old child is going to love. Make it a movie night by renting films. For snacks, order pizza, or barbecue hamburgers and hot dogs. You could also make a sundae bar for the kids to dress up their ice cream treats with a variety of sauces, sprinkles and other toppings. Other activities may include board games and rounds of karaoke.
Roller Rink Parties
Roller rink parties can accommodate both large and small groups. Many rinks offer special birthday party packages that include group discounts for pizza, drinks and skate rental. Many skating birthday parties also feature games on skates, like a limbo contest and a variation of musical chairs in which participants must skate to a particular area of the rink when the music stops playing. For those who do not like to skate, many rinks also have an arcade. These parties allow your birthday kid to skate and socialize with friends in a fun and safe environment.