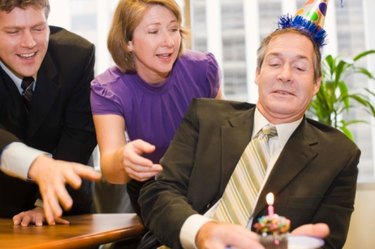 A 38th birthday party may not hold the momentous significance that a 30th or 40th celebration would, but it can and should still be fun. After all, a birthday is still important, as is the person in your life ringing in the occasion. A person of this age is at a crossroads of sorts, as they remain relatively youthful while approaching middle age. This provides plenty of ideas for a good party, as there are several approaches you can take.
Oscar Night
An Oscar Night theme party is a fun way to have everyone dress up in black tie attire and celebrate the guest of honor. For example, you could have trivia games about her, and have her "win" the lifetime achievement award at the end of the evening. The idea is to tailor the evening to whatever she and the guests would deem fun. You could play charades with a Hollywood theme. You could also host a movie marathon featuring winners from 38 years ago and have everyone dress like the actors did from that era. Also, consider featuring appetizers and drinks with an added Hollywood name, such as Gwyneth's Baby Martini (Apple) or Superman Salsa. Have a cake that features a theme of a red carpet or stars.
Casino Parties
Casino Night is another popular party theme for a thirty-something birthday. On the invitation, encourage guests to dress up for the occasion. Include plenty of easy-to-eat finger foods and feature plenty of Vegas-style drinks, such as martinis. You don't have to feature every casino game, but it helps to have the more popular ones, such as poker, craps and blackjack. As your guests arrive, present each with an envelope of play money. Present the guest of honor with a birthday cake that has a gambling theme.
Hiking/Camping
Schedule a day or weekend event outdoors, especially if the honoree likes adventure. It's casual, low key and fun for everyone. This can be a great way to celebrate with a group of families, and you don't have to worry about cleaning the house. This is also a good choice for when the guest of honor is on the shy side and is uncomfortable with being the center of attention. Plus, it's relatively inexpensive. You could even ask guests to bring picnic food for a pot-luck feast.
Suprise
Plan a surprise party for a 38th birthday. While the birthday person certainly expects to be remembered and given a few gifts and cards, he is probably not anticipating anything hugely significant since it's not quite the big "4-0" just yet. So this is the perfect time to throw a surprise party. It could be at work, home or at one of her favorite places. For example, take her out to what she thinks will be a low-key birthday dinner at her favorite restaurant, and have everyone be there when you arrive.