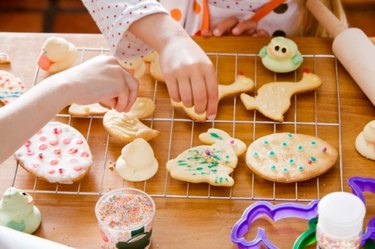 Mothers get a range of gifts on Easter depending on how old their children are. If you are a young person, an Easter craft for your mother would be a very meaningful gift, as most mothers cherish handmade gifts from their children. Moms appreciate gifts from their children of any age that make them feel special.
Edible Gifts
Some people dislike receiving keepsake gift items as they can accumulate and create clutter. Edible gifts are a fun way to show your mom you appreciate her without creating storage problems in the future. If your mom likes candy, make her an Easter basket with chocolate eggs. If you are good at baking, bake her a cake shaped like an Easter bunny or an egg that the whole family can enjoy.
Personalized Gifts
Many people who enjoy decorative gifts appreciate receiving something tailor made for them. You could either have an item made with your mother's name or have it say "Mom." There are Easter flags available for people who like to have decorative flags installed on the exterior of their houses, which could be customized with your mother's name. Stuffed animal lambs are popular with many women; you could tie a ribbon around one's neck that says, "We love you, Mom."
Religious Gifts
If your mom is religious, let her know that you are thinking of her as you observe Easter. Remind her that you value the religious traditions that she raised you with. An engraved Bible or a decorative cross are nice gifts. Many Christian bookstores have Easter themed books, either fiction or nonfiction, and Easter music with songs about Jesus' resurrection.
Crafts
A handmade card is a thoughtful gift from children of all ages. Children's Easter crafts include making a lamb magnet out of felt and white yarn, a clay Easter-themed pencil cup, or a vase painted with Easter colors. Young children might color a picture of an Easter scene. You could dye some Easter eggs and bring them to her house. If you knit, you could knit her an Easter sweater or a plush Easter lamb.