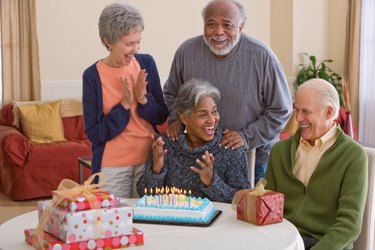 Dad's retirement is more than just his last day at work. He is letting go of a way of life he has known for the majority of his life. He is entering new territory. Support him the same way he supported you on your first day of school, at your wedding and every time you picked up a new hobby. Throw him a retirement party that helps ease him into the transition by making him feel good about it.
Travel-themed Party
Retirees travel. It's almost like a rite of passage to get into the retiree's club. If you don't already know, find out which travel destination your father is looking forward to the most. Use that location as the party theme of the retirement celebration. Then decorate the venue with things that are representative of that city. Choose foods for the party guests that are favorites in that country. Order food from catering companies or restaurants that specialize in that country's cuisine, such as enchiladas if he is planning a trip to Mexico. Your gift to him can be something that will help him enjoy his trip, such as a new luggage set.
A Roast
This is possibly a scary time for your dad. He has worked for most of his life to provide for his family. Change can be threatening as well as exhilarating for some people. Help him celebrate in the joy by making playful fun of him. Throw a roast. Gather your brothers and sisters to tell jokes or recall some of your dad's most embarrassing moments.
Hobbies/Games
The retirement party is the first time Dad will have to seriously think about life after the work force. Help him see how much fun it's going to be. Whatever his favorite game or hobby is, make that the focus of the party. For example, if your dad loves bowling, throw his retirement party in a bowling alley. If he loves golf, the retirement party is the day that the entire family will enjoy a few rounds with dear old Dad.
Barbecue
Dad has probably been the master of ceremonies at every barbecue the family had while you were growing up. Let someone else don the apron. Let your father sit around and be served for a change. Plan the party in the back yard of the family home. Dad may see that retirement will allow more time with family and friends, and that it will be a good thing.