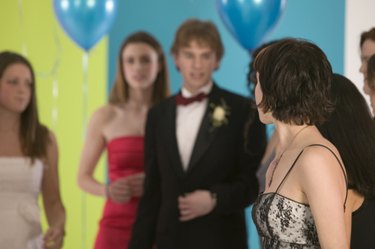 Semi-formal events for teens are usually the prelude to that most highly anticipated high school event: senior prom. Putting on a themed semi-formal dance or party for kids is appropriate beginning in middle school. Parents frequently volunteer to plan and decorate, and schoolteachers can help out as chaperones on the night of the party. Semi-formal events don't have as strict a dress code as the ultra-formal expectations of prom, but kids will enjoy the opportunity to dress up if they want to and take part in some good, clean fun.
Destination Themes
Choose a faraway destination and base the theme of your semi-formal event around it. Famous European cities, like Paris or Venice, will give you a set of characteristic symbols and themes to work into your décor and accessories. For example, make or buy faux streetlights to create a town-square atmosphere, and decorate the walls with a giant Eiffel Tower. The soft lighting and iconic structure will set the tone for a laid-back and atmospheric evening of dancing for the teen guests.
Movie Themes
Theme your semi-formal event based on a movie that many people are likely to have seen or recognize. You can enjoy great success with a "The Little Mermaid," "Titanic" or "West Side Story" theme. For a relatively simple decorating idea, set up a projector and a screen or white wall and set the movie to loop and let it play all night on "mute" while the guests dance. Incorporate the movie's setting, characters and icons into your other décor to transform a school gym into another world. Encourage themed dress for the guests, too.
Game Themes
Set the semi-formal up as an elaborate game that lasts for the duration of the evening. For example, there are various kits and sets that assign each player a novel identity, with the idea that the characters are all suspects in a murder mystery that must be solved before the night is over. If this presents too big a challenge, base your semi-formal theme on a game itself: the game Clue inspires many different possibilities, from decorating the space for the event like the game board to encouraging guests to dress as characters from the movie or the game.
Masquerade Ball
Throw a bash straight out of the Renaissance, and request that guests wear masks to conceal their identity. Masquerade balls are historically highly formal affairs, and self-conscious teens will be grateful for the opportunity to literally "mask" any lingering awkwardness they may feel at the event. The dress code for a masquerade ball semi-formal event can include floor-length gowns, elbow-length gloves, and coattails for the gents.