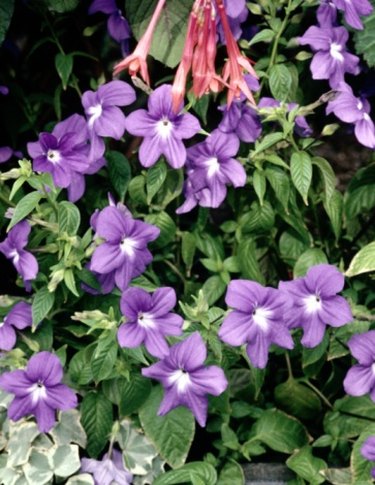 Vinca, a flowering perennial also known as periwinkle or myrtle, thrives in partial to full shade. The vinca produces 2-inch flowers that bloom in the spring. Annual varieties are also known as Madagascar periwinkle. Vinca comes in three varieties, major, dwarf and creeping. The most common color of vinca is lavender-blue, followed by purple. There is an assortment of less common colors of vinca flowers, many of which are very pleasing to the eye.
Blue Vinca
Blue pearl is a soft lavender-blue flower with a white eye that grows to 18-inches tall. Aureola is light blue and Bowles has a deep blue flower. The Ralph Shugert variety produces medium blue flowers that bloom in both the spring and fall. The Victory Blue Vinca (periwinkle) produces purplish blue flowers with a white center eye. The Blush First Kiss has a lipstick center splashed on a blush-pink flower.
Purple Vinca
Purple varieties of vinca include the dark purple Atropurpurea, the lilac colored Cora Cascade Lilac, along with Passion vinca, which has a deep purple flower and a yellow eye center. The Orchid Deep vinca has a light grape flower with small white eye. The Blueberry First Kiss is violet-blue with a dark violet eye.
Bright Whites, Reds and Pinks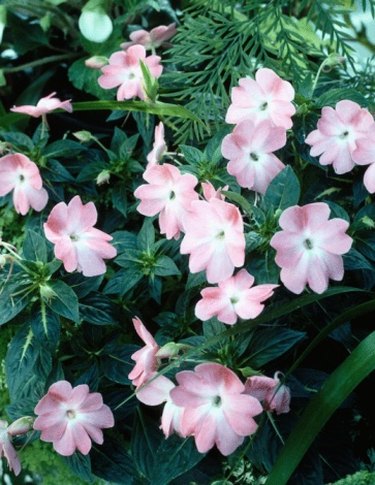 Vincas also bloom in bright and striking whites, reds and pinks. The center eyes of the vincas come in a variety of individual colors, producing a plethora of color combinations. The Polka Dot First Kiss is white with a deep red eye. Victory Bright Eye is snow white with a red eye. Vincas come in wine red, hot rose, and deep pink.
Soft Colors
Some of the softer color varieties of vinca are lovely and pleasing to the eye. The Pacifica Apricot vinca has a soft peach flower with a dark red eye. It is one of the most beautiful, if not common, vincas. The Santa Fe is another interesting and soft colored vinca, with a deep salmon flower and white eye. Vincas also come in pink and light pink.