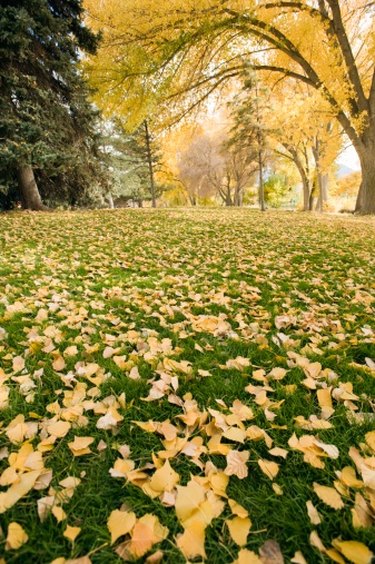 Use the rich colors and flavors of fall as your inspiration when planning a ladies' luncheon during that time of year. A seasonally inspired theme can be used in every aspect of the luncheon, from the menu to the decor. Additionally, you can use a number of natural, in-season items at your luncheon, helping you save money. Think of your favorite aspects of fall and bring them into your ladies' luncheon.
Menu
Some foods simply scream fall and are a must for your ladies' luncheon. In particular, pumpkins add a seasonal flavor to your menu. You can start off with a hearty pumpkin soup or finish your luncheon with pumpkin chocolate chip muffins. Include apples on your salad for some fresh flavor. Consider a fall entree like sliced turkey breast topped with gravy, and offer up some sweet potatoes or a vegetable casserole on the side.
Color Scheme
Fall offers some of the year's richest hues, with shades of red, orange and yellow dotting outdoor landscapes. While you don't have to use all of fall's colors, you can choose one as the decor inspiration for your ladies luncheon. You can incorporate the color scheme in a number of ways, including using red or golden linens on your buffet and banquet tables or hanging fall-themed artwork on the walls. You can even ask guests to dress in their favorite fall hues to add rich colors to the room.
Centerpieces
Your banquet tables will be the focal point of your ladies' luncheon since that's where your guests will sit, so you want them to be attractive. Even more, they should carry out the fall theme of your luncheon. Several centerpiece ideas work well for your ladies' luncheon. Fill a glass vase with pinecones or a natural woven basket with real or faux fall leaves. Alternatively, use green or purple hydrangeas, deep red roses or crimson calla lilies for a traditional floral centerpiece.
Other Fall Elements
You can incorporate fall into your ladies' luncheon in a number of ways. Cut leaf shapes out of orange or gold card stock; write each guest's name on the leaf, and place them at each seat as fall-themed, do-it-yourself place cards. Send your guests home with a memory of the luncheon by creating fall-themed favors. Candied applies are synonymous with fall, so wrap them in cellophane for a sweet treat for your guests to enjoy after the luncheon ends.