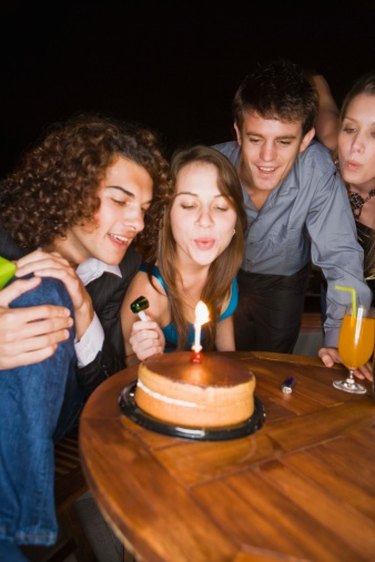 Scavenger hunts can provide entertainment for teenagers if they are designed to their tastes. Make use of the birthday girl's interests to create a special, memorable and most of all fun occasion by updating the old-fashioned scavenger hunt. It doesn't have to take a lot of planning to be successful, can take place just about anywhere and can use digital cameras to scavenge videos and shots rather than things.
Around Town
Teenage girls enjoy getting out about town and having fun. An around-town hunt gives them a structured way of doing just that. Party goers can either meet at home and be driven into town or meet up at a local coffee shop. Items to hunt for can include disposable cups from a particular shop or eatery, napkins and fliers. Most girls will have mobile phones take shots of the party goers in specific places or use clues to lead them around the town.
Video and Photo Hunts
Mobile phones are ubiquitous nowadays. Take advantage of the technology to use them for a video or photo hunt. Rather than collecting items, collect photos. These can include photos of specific scenes or showing specific items. Use up- to-date fads by getting the participants to record reenactments of advertisements, segments of TV shows or song and dance, with additional stipulations – a certain type of tree or a car of a particular color must be in the background.
Neighborhood Hunts
Neighborhood hunts can be a great way to meet neighbors and form social bonds and still have a party at home. Get the girls to ask for small items from neighbors – a ribbon, something paper, a sweet, something blue. They can also get little-known facts from neighbors, such as their favorite colors, first jobs or maiden names. Use questions like the color of the drapes in number 36's upstairs windows or how many red cars are parked on a particular street.
Mall Hunts
Malls can provide a brilliant arena for scavenger hunts. If the scavenger hunt is for a birthday and the participants are willing, it can be a fun way for them to select and buy presents. Ask them not to buy in advance but to bring about $10 with them. If you know there is a hat or wig shop, use mobile phones for shots of party goers wearing the items. Ask girls to take note of items in specific window displays or third down on menus. Decide on a food stall to meet up at when they're done.