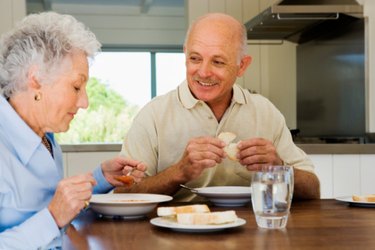 Campbell's chicken noodle soup is a pantry staple in many households. After a busy day, it's convenient to pop the top on a can of soup, add water, heat and eat. Turn Campbell's chicken noodle soup from a light meal into a hearty dinner by combining it with other savory ingredients like diced chicken, hamburger and potatoes.
Chicken Corn Chowder
Make chicken corn chowder by combining two of Campbell's soups and adding a few extra ingredients. Add one can of condensed chicken noodle soup and one can of condensed cream of chicken soup to a large pot. Fill the two empty soup cans with milk and then pour the milk into the pot with the soup; stir until combined. Add one can of creamed corn and 1 cup of diced cooked chicken. Heat the mixture until steaming, stirring frequently. Do not boil the soup. Ladle soup into bowls and top with a sprinkling of grated cheddar cheese and oyster crackers. Complete the meal by serving a side salad of greens and fresh vegetables topped with an acidic dressing like balsamic vinegar.
Chicken Pot Pie
Warm up on a chilly night with a hearty chicken pot pie made with Campbell's chicken noodle soup. In a mixing bowl combine one can of Campbell's chicken noodle soup, one can of Campbell's cream of potato soup, one can of mixed vegetables and 1 cup diced cooked chicken. Add ½ tsp. each of black pepper, crushed rosemary and sage. Stir to combine. Press a pre-made pie crust into the bottom of a 9-inch round casserole dish. Pour in the soup mixture. Place a second pre-made pie crust on top so it completely covers the soup mixture. Seal the edge of the pie crust to the casserole dish and poke holes in the top using a fork. Bake at 350 degrees Fahrenheit for 40 minutes or until golden brown on top.
Hamburger Potato Casserole
Brown 1 1/2 lbs. of lean ground beef with one small diced onion in a frying pan. Drain the grease. Mix in two cans of Campbell's chicken noodle soup. Thinly slice 1 lb. of raw potatoes. Layer the potatoes in the bottom of a casserole dish. Pour the hamburger and soup mixture over the potatoes. Bake on 350 degrees Fahrenheit for 1 hour or until bubbly and brown on top. Serve with a side of garlic toast. Slice crusty French bread into ½-inch-thick pieces. Spread on butter and sprinkle with garlic power and oregano. Toast in the oven on 350 degrees Fahrenheit for about 8 minutes, or until brown on top.
Tacos
Add Campbell's chicken noodle soup to a basic taco meat recipe for a family-style dinner. Brown 1 lb. of ground beef in a large frying pan, drain the fat and set aside. Dice one medium onion, one stalk of celery and one medium bell pepper and sauté in the frying pan until translucent. Puree one can of Campbell's chicken noodle soup. Combine all ingredients in the large frying pan. Add 1 heaping tbsp. of ketchup and 1 tsp. of mustard. Simmer for 30 minutes or until the mixture thickens. Warm taco shells in the oven on 350 degrees Fahrenheit for seven minutes. Spoon the taco meat into shells and add your choice of toppings, such as diced tomatoes, chopped spinach or shredded cheese. Serve tacos with a side of tortilla chips and guacamole or refried beans.