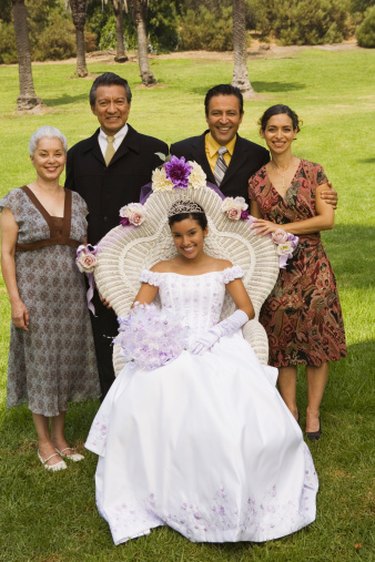 Traditionally, young aristocratic women that had reached the age of maturity were formally introduced to society at what was called a formal debutante ball. In the U.S., particularly in the south, debutante or cotillion balls are still popular, and the young women that take part are expected to represent chastity, grace and polite society.
British Tradition
Historically, in the U.K., the social season did not start until the season's debutantes had been presented to the reigning monarch. This tradition was only abolished in the late 1950s. You could appoint a king and queen and have them preside over a ceremony at the start of the party. In the British tradition, your debutantes could then be formally announced and parade and curtsy to your "royalty." Your king and queen should be well respected in your community and might be local dignitaries or church elders.
Movie Theme
A debutante party should be an elegant event. Few Hollywood stars represent elegance more charmingly than Audrey Hepburn and Grace Kelly. Choose one of their films for the theme for your party. Perhaps, Grace Kelly's "High Society" or Hepburn's "My Fair Lady."
Fundraiser
Structure your party as a fundraiser to benefit the non-profit and charitable endeavors of your debutantes. Each debutante could sell tickets and a percentage of the sales could be donated to good causes of their choice. They can introduce presentations about their causes during the party, or offer prizes for a silent auction to further benefit the charities.
Color Cotillion
You could break with tradition and move away from white dresses and specify another color as the theme for your party. Since the formal white dresses are of little use for anything other than a cotillion, choosing another color will help girls get more mileage from their dresses as they can use them for other formal events.