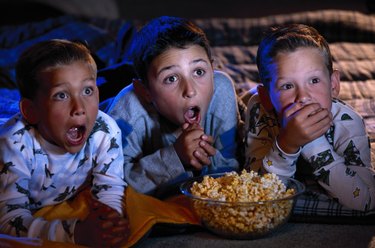 Allowing your son to have friends over for a sleepover party can be a fun experience for all involved. Monitoring larger groups of children can be difficult to handle at times, However, with careful planning and some mindful effort, there are a number of ideas you can incorporate into the slumber party that can help make the sleepover for boys a success.
Inviting Guests
Either you or your son can be in charge of inviting guests to the party. If your sleepover coincides with a birthday party or another kind of celebration, consider making invitations to send out to the other boys. Invitations should specify when the boys should be dropped off the day before and when they should be picked up in the morning. Also, include a reminder for each guest to bring a sleeping bag and pillow. If you're not making invitations, call the parents to let them know the boys will be supervised, when bedtime will be, and what they need to bring. It is always important to make sure each guest has parental permission prior to attending the sleepover.
Food
Prepare to have food and snacks ready for the boys at the sleepover. If the designated drop-off time for the boys is before or around dinner, have a complete meal ready for them such as hamburgers or hot dogs If they're coming later, ordering a pizza or having appetizers are good ideas. Have snacks ready for later on in the night, especially if the boys plan on watching a movie. Try to limit caffeinated soft drinks and sugary candies, especially later in the evening, so the boys aren't too overactive around bedtime. In the morning, have breakfast ready for your guests. It is usually easiest to set up a buffet of options or get something simple like doughnuts, bagels, milk and juice.
Activities
Plan activities for the sleepover to keep the boys busy. One of the easiest activities is to show a movie or have a mini-movie marathon. Pick films that are age-appropriate for your guests. You can also have video games set up to play, again making sure they are age-appropriate. You can monitor their game play and set up a tournament so everyone gets a chance to participate. If the weather is nice, set up outdoor games like tag or sardines. If you have a swimming pool, organize pool games for the boys.
Rules
Sleepovers are supposed to be fun, but it is also important to set certain rules when you have other children in your house. Since you don't know everyone's normal bedtimes at home, set a reasonable time everyone has to go to bed, This is especially important for younger kids. Be firm with this rule, and don't let the boys break it. Highlight your house rules when everyone first arrives, such as no running or yelling in the house. Be firm but not mean when enforcing your rules so everyone understands how to behave.