Many people prefer to feel comfortable when dressing up for a costume party, and pajamas are known for being as comfortable as they come. Pajamas can easily work as a base for many costume ideas with the addition of makeup and props. Use your creativity to make a costume that can work for Halloween or a pajama costume party.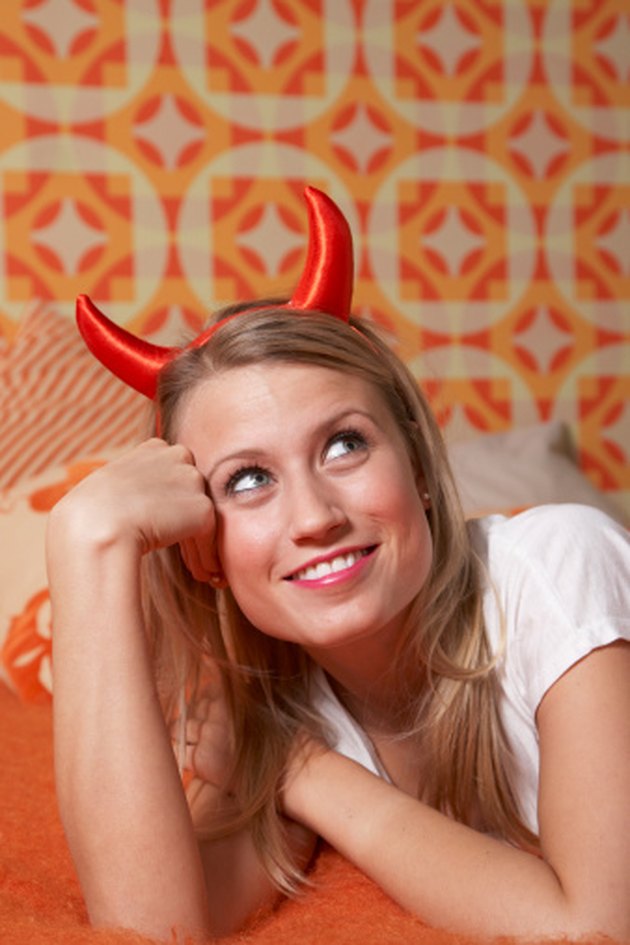 Adult Costume Ideas
Adults wishing to leave pajamas on for a costume party have a number of options to choose from. Create costumes out of footie pajamas for adults, which you can purchase at many stores online and costume stores. Use footie pajamas in conjunction with other props, such as devil horns or whiskers and face paint for a black cat. Choose the pajamas in the color that best works with the costume -- for example red footie pajamas for a devil's costume and black for a cat costume.
Vintage Pajamas
Shop at a thrift store to find vintage pajamas that can be used to create an adult costume. Slips from earlier times, such as the 1950s, can work for a pin-up girl costume. Vintage slips and pajamas can also work for a crazy housewife look, along with hair curlers, red lipstick and a bottle of pills or alcohol. Men can find a smoking jacket that is reminiscent of Hugh Hefner or an old classic movie star.
Other Ideas for Adults
Wear pajamas along with a blue or green face mask and a shower cap to look like a tired housewife. Dress in pajama pants with mismatched socks and shoes to look like a fashion victim. Add some bad hair accessories to further the costume. If you can find a silky negligee or robe, you could dress as Mrs. Robinson from the movie "The Graduate" or as an old-fashioned Hollywood starlet.
Children's Costume Ideas
Many costume ideas for children use a pajama base. Yellow pajamas could easily turn into a bee or a chicken with the addition of a mask and wings. White pajamas can be made into a bunny or angel with the addition of a tail, mask or wings. Children can also wear pajamas under another costume to stay warm while trick-or-treating for Halloween.